'Assam Beverages Price List' PDF Quick download link is given at the bottom of this article. You can see the PDF demo, size of the PDF, page numbers, and direct download Free PDF of 'Assam Wine And Whisky Price List' using the download button.
Assam New Liquor/Beverages/Wine/Beer Price List PDF Free Download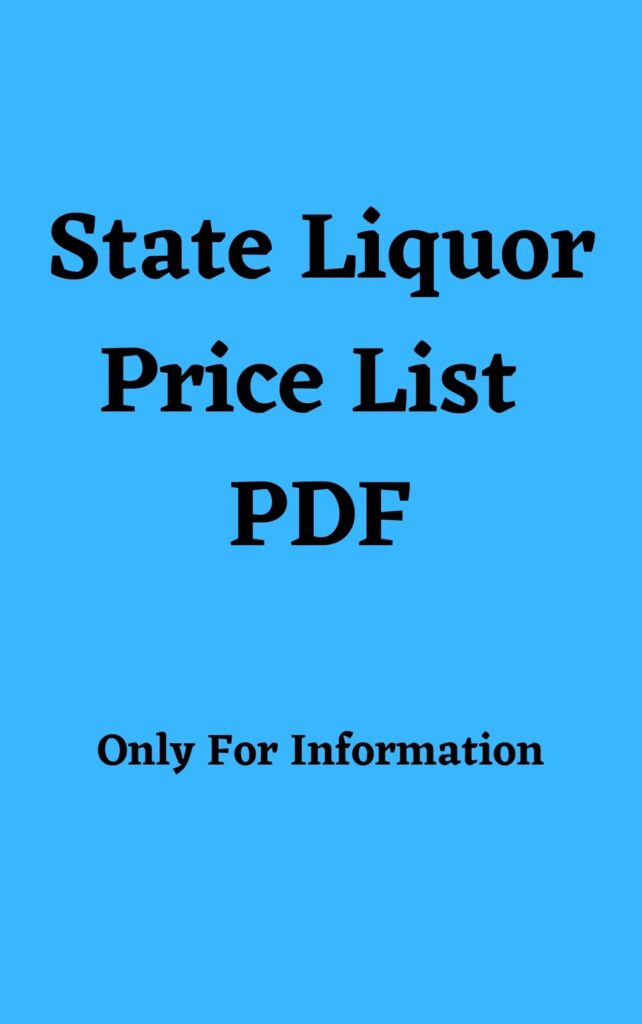 आसाम अंग्रेजी शराबो की रेट सूचि
Note: We are not selling or promoting any type of Liquor here. We are providing a list of the price of liquor that is set by the state government after cutting taxes. This post is only for informational purposes. And we publish this type of price list only for that states where liquor is not banned.
RS Whisky Price List In Assam
| | | |
| --- | --- | --- |
| NAME | QUANTITY | PRICE |
| Golf Club Whisky | 750ML | 138 |
| Caravan Prestige Whisky | 750ML | 140 |
| Caravan Prestige Whisky | 375ML | 70 |
| Oak Cask Whisky | 750ML | 150 |
| Oak Cask Whisky | 375ML | 80 |
| Officer's Choice Prestige Whisky | 750ML | 190 |
| Officer's Choice Prestige Whisky | 375ML | 95 |
| Red Knight Select Whisky | 750ML | 280 |
| Red Knight Select Whisky | 375ML | 100 |
| Mc Dowells No.1 Reserve Whisky | 750ML | 235 |
| Mc Dowells No.1 Reserve Whisky | 375ML | 117 |
| Queensland Whisky | 750ML | 160 |
| Queensland Whisky | 375ML | 80 |
| Royal Patiala Whisky | 750ML | 190 |
| Royal Patiala Whisky | 375ML | 95 |
| Whytehall Classic Deluxe Whisky | 750ML | 224 |
| Officer's Choice Blue Pure Grain Whisky | 750ML | 230 |
| Officer's Choice Blue Pure Grain Whisky | 375ML | 115 |
| Golfer's Shot-Oak Barrel Aged Whisky | 750ML | 500 |
| Golfer's Shot-Oak Barrel Aged Whisky | 375ML | 250 |
| Glen Cask Whisky | 750ML | 240 |
| Glen Cask Whisky | 375ML | 120 |
| White & Blue Premium Whisky | 750ML | 330 |
| White & Blue Premium Whisky | 375ML | 170 |
| White Hills Reserve Whisky | 750ML | 240 |
| White Hills Reserve Whisky | 375ML | 120 |
| Rare Reserve Whisky Castle Hill | 750ML | 240 |
| Rare Reserve Whisky Castle Hill | 375ML | 120 |
| Regal Talons Rare Generation Whisky | 750ML | 240 |
| Regal Talons Rare Generation Whisky | 375ML | 120 |
| Castle Pride Whisky | 750ML | 300 |
| Castle Pride Whisky | 750ML | 150 |
| Africaana Whisky | 750ML | 330 |
| Black Bow Whisky | 750ML | 500 |
| Dignity Pure Grain Whisky | 750ML | 230 |
| Dignity Pure Grain Whisky | 375ML | 115 |
| Imperial Blue Authentic Grain Whisky | 750ML | 240 |
| Imperial Blue Authentic Grain Whisky | 375ML | 120 |
| Royal Stag Classic Whisky | 750ML | 330 |
| Royal Stag Classic Whisky | 375ML | 170 |
| Blenders Pride Select Premium Whisky | 750ML | 500 |
| Blenders Pride Select Premium Whisky | 375ML | 120 |
| After Dark Fine Grain Whisky | 750ML | 408 |
| A.C. Black Whisky | 750ML | 240 |
| A.C. Black Whisky | 375ML | 120 |
| Royal Pride Whisky | 750ML | 500 |
| Teacher's 50 Blended Scotch Whisky | 750ML | 1925 |
| Vat 69 Blended Scotch Whisky | 750ML | 1150 |
| Vat 69 Blended Scotch Whisky | 375ML | 575 |
| Black Dog Triple Gold Reserve Blended Scotch Whisky | 750ML | 1750 |
| Black Dog Triple Gold Reserve Blended Scotch Whisky | 375ML | 890 |
| Antiquity Blue Ultra Premium Whisky | 750ML | 680 |
| Signature Premier Grain Whisky | 750ML | 550 |
| Signature Premier Grain Whisky | 375ML | 275 |
| 100 Pipers Blended Scotch Whisky, Aged 12 Years | 750ML | 1725 |
| 100 Pipers Exquisite Blended Scotch Whisky | 750ML | 1200 |
| Ballentine's Finest Blended Scotch Whisky | 750ML | 1650 |
Vodka Price List In Assam
| | | |
| --- | --- | --- |
| NAME | QUANTITY | PRICE |
| White Mischief Vodka | 750ML | 235 |
| White Mischief Vodka | 375ML | 118 |
| Magic Moments Pure Grain Vodka | 750ML | 240 |
| Magic Moments Pure Grain Vodka | 375ML | 120 |
| Peooz Vodka | 750ML | 300 |
| Fuel Vodka Green Apple | 750ML | 300 |
| Fuel Vodka Green Apple | 375ML | 150 |
| Fuel Vodka Orange | 750ML | 300 |
| Fuel Vodka Orange | 375ML | 150 |
| M2 Magic Moments Remix Flavoured Vodka Raspberry | 750ML | 298 |
| M2 Magic Moments Remix Flavoured Vodka Orange | 750ML | 335 |
| M2 Magic Moments Grain Vodka | 750ML | 300 |
| M2 Magic Moments Remix Flavoured Vodka Green Apple | 750ML | 335 |
| Smirnoff Triple Distilled Vodka | 750ML | 530 |
| Smirnoff Triple Distilled Vodka | 375ML | 280 |
| Smirnoff Green Apple Triple Distileed Vodka | 750ML | 550 |
| Smirnoff Espresso Triple Distilled Vodka | 750ML | 550 |
| Absolut Vodka | 750ML | 1650 |
| Ketel One Vodka | 750ML | 1800 |
Rum Price List In Assam
| | | |
| --- | --- | --- |
| NAME | QUANTITY | PRICE |
| Golf Club XXX Rum | 750ML | 138 |
| Honey Badger XXX Rum | 750ML | 140 |
| Honey Badger XXX Rum | 375ML | 70 |
| Zino XXX Rum | 750ML | 140 |
| Zino XXX Rum | 375ML | 70 |
| Friends XXX Rum | 750ML | 150 |
| Friends XXX Rum | 375ML | 80 |
| Hornbill Superior Rum | 750ML | 160 |
| Hornbill Superior Rum | 375ML | 80 |
| Armada Matured XXX Dark Rum | 750ML | 170 |
| Armada Matured XXX Dark Rum | 375ML | 85 |
| 8 PM Bermuda XXX Original Caribbean Rum | 750ML | 190 |
| Aristocart XXX Rum | 750ML | 170 |
| Aristocart XXX Rum | 375ML | 85 |
| Bacardi Carta Blanca Superior White Rum | 750ML | 550 |
| Bacardi Carta Blanca Superior White Rum | 375ML | 280 |
| Bacardi Black Deluxe Rum | 750ML | 300 |
| Bacardi Black Deluxe Rum | 375ML | 150 |
| Pluton Bay Rare Exotic Rum | 750ML | 330 |
| Pluton Bay Rare Exotic Rum | 375ML | 170 |
| Africaana Dark Rum | 750ML | 230 |
| Lord Nelson XXX Matured Rum | 750ML | 230 |
| Brihan's Tropicana Export Quality XXX Metured Rum | 750ML | 286 |
| Galdius Blended 10 Year Old Gold Reserva Rum | 750ML | 280 |
| Galdius Blended 10 Year Old Gold Reserva Rum | 375ML | 140 |
| Old Monk White Rum | 375ML | 150 |
Beer Price List In Assam
| | | |
| --- | --- | --- |
| NAME | QUANTITY | PRICE |
| Bira91 Blonde Summer Lager Beer | 650ML | 335 |
| Bira91 Blonde Summer Lager Beer | 330ML | 175 |
| Carlsberg Classic Strong Beer | 650ML | 190 |
| Dare Devil Extra Strong Premium Beer | 650ML | 140 |
| Dare Devil Extra Strong Premium Beer | 500ML | 125 |
| Dare Devil Royal Export Premium Crafted Strong Beer | 650ML | 160 |
| Dare Devil Royal Export Premium Crafted Strong Beer | 500ML | 135 |
| God Father Super Strong High Power Beer | 650ML | 140 |
| God Father Super Strong High Power Beer | 330ML | 70 |
| Haywards 2000 H2K Super Strong Beer | 650ML | 125 |
| Heineken Lager Beer | 650ML | 345 |
| Heineken Lager Beer | 330ML | 195 |
| Kingfisher Strong Premium Beer | 650ML | 140 |
| Kingfisher Strong Premium Beer | 330ML | 80 |
| Kingfisher Premium Lager Beer | 650ML | 135 |
| Kingfisher Premium Lager Beer | 330ML | 80 |
| Kingfisher Storm Super Strong Beer | 650ML | 180 |
| Kingfisher Storm Super Strong Beer | 500ML | 155 |
| Kingfisher Ultra Max Super Premium Strong Beer | 650ML | 235 |
| Kingfisher Ultra Max Super Premium Strong Beer | 500ML | 190 |
| Kingfisher Ultra Max Super Premium Strong Beer | 330ML | 135 |
| Kotsberg Strong Premium Beer | 650ML | 190 |
| Kotsberg Strong Premium Beer | 500ML | 155 |
| Original Bira 91 Strong Beer | 650ML | 285 |
| Tuborg Premium Mild Beer | 650ML | 135 |
| Tuborg Premium Mild Beer | 330ML | 80 |
| Tuborg Strong Beer | 650ML | 140 |
| | |
| --- | --- |
| Author | Assam Government |
| Language | English |
| No. of Pages | 1 |
| PDF Size | 0.1 MB |
| Category | State Liquor Price |
| Source/Credits | excise.assam.gov.in |
Related PDFs
Assam Liquor Price List PDF Free Download