Goa Liquor Price List PDF Free Download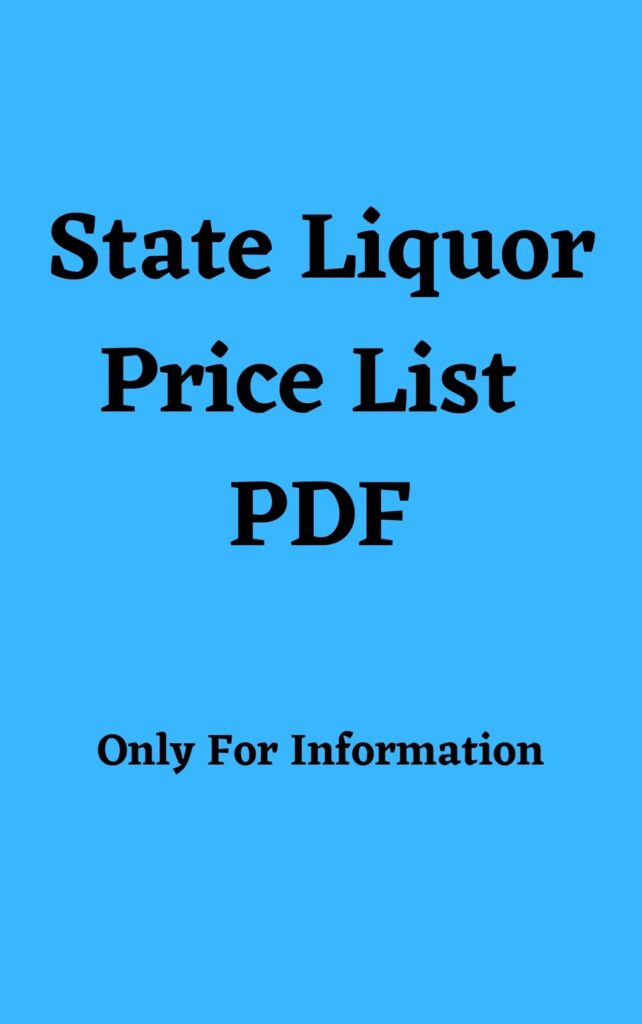 Note: We are not selling or promoting any type of Liquor here. We are providing a list of the price of liquor that is set by the state government after cutting taxes. This post is only for informational purposes. And we publish this type of price list only for that state where liquor is not banned.
Goa Liquor Price List 2023 PDF is now available for download with the revised prices. Goa government has set to cost up to 50% more from April 1. Goa Liquor Price List 2023 contains the complete detail about the excise alcohol like price according to quantity, different brands, beer, vodka, whisky, scotch, wine, etc.
Goa is famous in the world for beaches and alcohol.  Check below the complete and latest liquor price list 2023 of Goa or download the PDF using the direct download link at the bottom of this page.
Rum – Alcohol Prices In Goa
| Label Name | Pack Size | Sale Price |
| --- | --- | --- |
| OLD SMUGGLER MATUR XXX | 750ML | 1,195.29 |
| BACARDI DRAGON BERRY | 750ML | 4,241.48 |
| BACARDI APPLE | 750ML | 4,241.48 |
| BACARDI BLACK | 750ML | 3,651.53 |
| BREEZER CRANBERRY 275 ML | 275ML | 1,071.14 |
Vodka – Alcohol Prices In Goa
| Label Name | Pack Size | Sale Price |
| --- | --- | --- |
| AUBERGE PREMIUM VODKA | 750ML | 1,785.24 |
| CLASS GRAIN VODKA | 750ML | 1,020.87 |
| WODKA GORBATSCHOW | 750ML | 3,249.34 |
| CLASS 21 GRAIN VODKA | 750ML | 1,020.87 |
| ERISTOFF TRIPPLE DISTI | 750ML | 3,094.42 |
Whisky – Alcohol Prices In Goa
| Label Name | Pack Size | Sale Price |
| --- | --- | --- |
| OLD SMUGGLER BLENDED | 750ML | 7,578.04 |
| WHITE & BLUE PREMIUM | 750ML | 2,104.33 |
| OFFICERS CHOICE BLUE | 750ML | 1,339.96 |
| OFFICERS CHOICE PRESTIGE | 750ML | 1,020.87 |
| DYC RARE CARVED | 180ML | 1,946.32 |
Beer– Alcohol Prices In Goa
| Label Name | Pack Size | Sale Price |
| --- | --- | --- |
| CARLSBERG ALLMALT PRE | 650ML | 767.448 |
| CARLSBERG ELEPHANT STONG SUPER PREMIUM BEER | 650ML | 767.448 |
| PALONE8 FIRE X-TRA STRONG PRE. BEER | 650ML | 476.064 |
| TUBORG GREEN BEER | 650ML | 516.078 |
| GERMAN SUPER STRONG | 650ML | 558.144 |
Wine – Alcohol Prices In Goa
| Label Name | Pack Size | Sale Price |
| --- | --- | --- |
| FOUR SEASON BLUSH ROSE | 750ML | 3,139.56 |
| FOUR SEASON SHIRAZ RED | 750ML | 3,539.70 |
| FOUR SEASONS – CLASSIC CABERNET SAUVIGNON RED WINE | 750ML | 3,539.70 |
| FOUR SEASONS – CLASSIC SAUVIGNON BLANC WHITE WINE | 750ML | 3,539.70 |
| FOUR SEASONS BARRIQUE RESERVA SHIRAZ | 750ML | 5,530.14 |
Gin– Alcohol Prices In Goa
| Label Name | Pack Size | Sale Price |
| --- | --- | --- |
| 20-20 SPECIAL DRY | 750ML | 570 |
| B.W.M. DRY | 750ML | 522.5 |
| CHAKDE SUPRIER DRY | 750ML | 570 |
| SILVER WINGS SUPERIER | 750ML | 617.5 |
| TOP GUN | 750ML | 451.25 |
| | |
| --- | --- |
| Author | – |
| Language | English |
| No. of Pages | 62 |
| PDF Size | 2.4 MB |
| Category | Government |
Related PDFs
Goa Liquor Price List PDF Free Download