'Rajasthan Liquor Rate List' PDF Quick download link is given at the bottom of this article. You can see the PDF demo, size of the PDF, page numbers, and direct download Free PDF of 'Rajasthan Wine And Whisky Price List' using the download button.
Rajasthan Liquor/Beverages/Wine/Beer New Price List PDF Free Download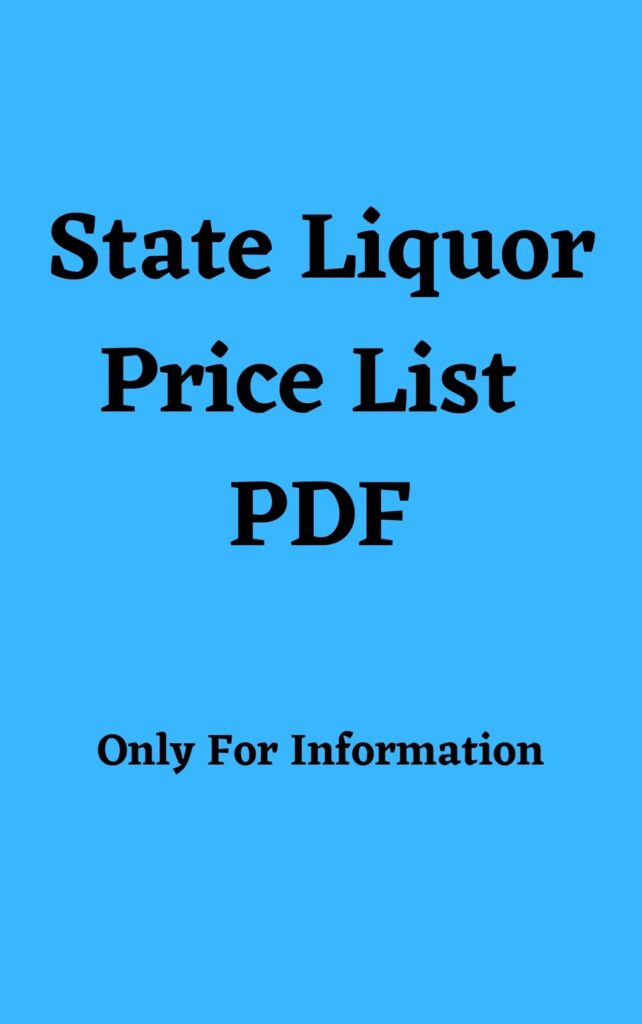 Rajasthan Latest Liquor Price List
Note 1: We are not selling or promoting any type of Liquor here. We are providing a list of the price of liquor that is set by the state government after cutting taxes. This post is only for informational purposes. And we publish this type of price list only for that states where liquor is not banned.
Note 2: Below Table contains 1 monthly old price. Recently 21 July 2022 Rajasthan Government increased the 8-10% price. So, for the updated price please download the PDF given at the last of this page.
| | | | |
| --- | --- | --- | --- |
| Sl No. | Whisky Brand Name | Quantity | Price (Rs.) |
| 1 | 100 Blended Scotch Whisky Aged 12 Years. | 750ml | 2770 |
| 2 | 100 Blended Scotch Whisky Aged 12 Years. | 180ml | 715 |
| 3 | 100 Blended Scotch Whisky Aged 12 Years100 | 180ml | 510 |
| 4 | 100 Blended Scotch Whisky Aged 12 Years100 | 375ml | 1030 |
| 5 | 100 Blended Scotch Whisky Aged 12 Years100 | 750ml | 2060 |
| 6 | 50-50 Blue Whisky Rml | 750ml | 349 |
| 7 | 50-50 Blue Whisky Rml | 180ml | 85 |
| 8 | 8Pm Premium Black Exquisite Whisky | 90ml | 95 |
| 9 | 8Pm Premium Black Exquisite Whisky | 180ml | 180 |
| 10 | 8Pm Premium Black Exquisite Whisky | 375ml | 360 |
| 11 | 8Pm Premium Black Exquisite Whisky | 750ml | 720 |
| 12 | 8 Pm Special Rare Whisky | 750ml | 240 |
| 13 | 8 Pm Special Rare Whisky | 375ml | 120 |
| 14 | A.C.S.E.K.C Whisky | 750ml | 455 |
| 15 | A.C.S.E.K.C Whisky | 375ml | 230 |
| 16 | Ac Black Luxury Pure Grain Whisky | 750ml | 720 |
| 17 | Ac Black Luxury Pure Grain Whisky | 375ml | 360 |
| 18 | Ac Black Luxury Pure Grain Whisky | 180ml | 180 |
| 19 | Ala Blending company Patiala No. 3 India Slected Grain Whisky | 750ml | 645 |
| 20 | Ala Blending company Patiala No. 3 India Slected Grain Whisky | 375ml | 325 |
| 21 | Ala Blending company Patiala No. 3 India Slected Grain Whisky | 180ml | 160 |
| 22 | All Seasons Golden Collection Reserve Whisky | 750ml | 720 |
| 23 | All Seasons Golden Collection Reserve Whisky | 375ml | 360 |
| 24 | All Seasons Golden Collection Reserve Whisky | 180ml | 180 |
| 25 | All Seasons Golden Collection Reserve Whisky | 90ml | 90 |
| 26 | Antiquity Blue Ultra Platinum Whisky | 750ml | 1080 |
| 27 | Antiquity Blue Ultra Platinum Whisky | 375ml | 540 |
| 28 | Antiquity Blue Ultra Platinum Whisky | 180ml | 270 |
| 29 | Antiquity Blue Ultra Platinum Whisky | 750ml | 600 |
| 30 | Antiquity Blue Ultra Platinum Whisky | 375ml | 305 |
| 31 | Antiquity Blue Ultra Platinum Whisky | 180ml | 150 |
| 32 | Aristocrat Premium Classic Smooth Whisky | 750ml | 600 |
| 33 | Aristocrat Premium Classic Smooth Whisky | 375ml | 305 |
| 34 | Aristocrat Premium Classic Smooth Whisky | 180ml | 150 |
| 35 | Black Bencher Whisky | 750ml | 1045 |
| 36 | Black Bencher Whisky | 180ml | 265 |
| 37 | Bagpiper Classic Whisky | 750ml | 455 |
| 38 | Bagpiper Classic Whisky | 375ml | 230 |
| 39 | Bagpiper Classic Whisky | 180ml | 115 |
| 40 | Black And White Blended Scotch Whisky | 750ml | 2220 |
| 41 | Black And White Blended Scotch Whisky | 180ml | 550 |
| 42 | Black Commander Fine Whisky | 750ml | 349 |
| 43 | Black Commander Fine Whisky | 180ml | 85 |
| 44 | Black Dog centenary Black Reserve Aged And Rare Blended Scotch Whisky | 750ml | 1995 |
| 45 | Black Dog centenary Black Reserve Aged And Rare Blended Scotch Whisky | 375ml | 1405 |
| 46 | Black Dog centenary Black Reserve Aged And Rare Blended Scotch Whisky | 180ml | 695 |
| 47 | Blenders Pride Reserve Collection Whisky | 750ml | 1335 |
| 48 | Blenders Pride Reserve Collection Whisky | 375ml | 670 |
| 49 | Blenders Pride Reserve Collection Whisky | 180ml | 340 |
| 50 | Blenders Pride Select Premium Whisky | 750ml | 1050 |
| 51 | Blenders Pride Select Premium Whisky | 375ml | 515 |
| 52 | Blenders Pride Select Premium Whisky | 180ml | 260 |
| 53 | Bond 121 Whisky | 180ml | 85 |
| 54 | Chetak Classic Whisky | 750ml | 349 |
| 55 | Chetak Classic Whisky | 180ml | 85 |
| 56 | Chivas Regal Aged 12 Years Blended Scotch Whisky | 750ml | 3110 |
| 57 | Chivas Regal Aged 12 Years Blended Scotch Whisky | 200ml | 950 |
| 58 | Chivas Regal Aged 12 Years Blended Scotch Whisky | 50ml | 345 |
| 59 | Cutty Sark Blended Scotch Whisky | 750ml | 2090 |
| 60 | Cutty Sark Blended Scotch Whisky | 180ml | 185 |
| 61 | Day & Night Premium Whisky | 750ml | 645 |
| 62 | Day & Night Premium Whisky | 375ml | 325 |
| 63 | Day & Night Premium Whisky | 180ml | 160 |
| 64 | Dewars White Label Blended Scotch Whisky | 750ml | 1780 |
| 65 | Dewars White Label Blended Scotch Whisky | 375ml | 890 |
| 66 | Dewars White Label Blended Scotch Whisky | 60ml | 145 |
| 67 | Discovery Elite Whisky | 750ml | 700 |
| 68 | Discovery Elite Whisky | 375ml | 355 |
| 69 | Discovery Elite Whisky | 180ml | 175 |
| 70 | Double Blue Deluxe Blended Whisky | 750ml | 600 |
| 71 | Double Blue Deluxe Blended Whisky | 375ml | 305 |
| 72 | Double Blue Deluxe Blended Whisky | 180ml | 155 |
| 73 | Idad Patiala No. 5 Reserve Whisky | 750ml | 830 |
| 74 | Idad Patiala No. 5 Reserve Whisky | 375ml | 415 |
| 75 | Idad Patiala No. 5 Reserve Whisky | 180ml | 205 |
| 76 | Impact Blue Classic Whisky | 750ml | 349 |
| 77 | Impact Blue Classic Whisky | 180ml | 85 |
| 78 | Mc dowels Gold Riband Deluxe Whisky | 750ml | 455 |
| 79 | Mc dowels Gold Riband Deluxe Whisky | 375ml | 230 |
| 80 | Mc dowels Gold Riband Deluxe Whisky | 180ml | 115 |
| 81 | Mc Dowells No.1 Deluxe Collection Whisky | 750ml | 600 |
| 82 | Mc Dowells No.1 Deluxe Collection Whisky | 375ml | 230 |
| 83 | Mc Dowells No.1 Deluxe Collection Whisky | 180ml | 120 |
| 84 | Monkey Shoulder Blended Malt Scotch Whicky | 700ml | 4125 |
| 85 | Officers choice Blue Classic Grain Whisky | 750ml | 600 |
| 86 | Officers choice Blue Classic Grain Whisky | 375ml | 305 |
| 87 | Officers choice Blue Classic Grain Whisky | 180ml | 160 |
| 88 | Officers choice Blue Classic Grain Whisky | 90ml | 85 |
| 89 | Party Special Blu Premium Whisky | 750ml | 600 |
| 90 | Party Special Blu Premium Whisky | 375ml | 305 |
| 91 | Party Special Blu Premium Whisky | 180ml | 150 |
| 92 | Rock Wisky | 750ml | 1035 |
| 93 | Rock Wisky | 180ml | 260 |
| 94 | Royal Challenge Premium Deluxe Whisky | 750ml | 720 |
| 95 | Royal Challenge Premium Deluxe Whisky | 375ml | 360 |
| 96 | Royal Challenge Premium Deluxe Whisky | 180ml | 180 |
| 97 | Royal Challenge Premium Deluxe Whisky | 90ml | 95 |
| 98 | Royal Pride Reserve Smooth Whisky | 750ml | 1035 |
| 99 | Royal Pride Reserve Smooth Whisky | 375ml | 515 |
| 100 | Royal Pride Reserve Smooth Whisky | 180ml | 260 |
| 101 | Royal Stag Barrel Select Whisky | 750ml | 855 |
| 102 | Royal Stag Barrel Select Whisky | 375ml | 430 |
| 103 | Royal Stag Barrel Select Whisky | 180ml | 220 |
| 104 | Signature Premier Grain Whisky | 750ml | 1070 |
| 105 | Signature Premier Grain Whisky | 375ml | 535 |
| 106 | Signature Premier Grain Whisky | 180ml | 265 |
| 107 | Signature Rare Aged Whisky | 750ml | 1035 |
| 108 | Signature Rare Aged Whisky | 375ml | 520 |
| 109 | Signature Rare Aged Whisky | 180ml | 260 |
| 110 | Teachers 50 Blended Scotch Whisky | 750ml | 2485 |
| 111 | Teachers 50 Blended Scotch Whisky | 375ml | 1245 |
| 112 | Teachers 50 Blended Scotch Whisky | 180ml | 625 |
| 113 | Vat 69 Blended Scotch Whisky | 750ml | 2045 |
| 114 | Vat 69 Blended Scotch Whisky | 375ml | 1090 |
| 115 | Vat 69 Blended Scotch Whisky | 180ml | 540 |
Rajasthan RUM Price List
| | | | |
| --- | --- | --- | --- |
| Sl. No | Rum Brand Name | Quantity | Price (Rs.) |
| 1 | 1965 Spirit Of Victory Rare Xxx Rum | 750 ml | 605 |
| 2 | 1965 Spirit Of Victory Rare Xxx Rum | 375 ml | 305 |
| 3 | 1965 Spirit Of Victory Rare Xxx Rum | 180 ml | 155 |
| 4 | 50/50 Xxx Rum-Rml | 750 ml- RML | 349 |
| 5 | 50/50 Xxx Rum-Rml | 180 ml | 85 |
| 6 | Ashwa Premium Vintage Spiced Rum | 180 ml | 265 |
| 7 | Ashwa Premium Vintage Spiced Rum | 750 ml | 1045 |
| 8 | Bacardi 8 Reserva Ocho Rum | 750 ml | 3755 |
| 9 | Bacardi Anejo Cuatro 4 Years Gold Rum | 750 ml | 2950 |
| 10 | Bacardi Carta Blanca Superior White Rum | 180 ml | 265 |
| 11 | Bacardi Carta Blanca Superior White Rum | 90 ml | 135 |
| 12 | Bacardi Carta Blanca Superior White Rum | 750 ml | 1050 |
| 13 | Bacardi Carta Blanca Superior White Rum | 375 ml | 535 |
| 14 | Bacardi Gran Reserva Diez 10 Years Gold Rum | 750 ML (6 Bott.) | 6200 |
| 15 | Bacardi Limon Original Citrus Rum | 90 ml | 155 |
| 16 | Bacardi Limon Original Citrus Rum | 750 ml | 1235 |
| 17 | Bacardi Limon Original Citrus Rum | 180 ml | 305 |
| 18 | Bacardi 8 Reserva Ocho Rum | 750 ml | 3755 |
| 19 | Black By Bacardi Classic Original Premium Crafted Rum | 750 ml | 720 |
| 20 | Black By Bacardi Classic Original Premium Crafted Rum | 375 ml | 360 |
| 21 | Black By Bacardi Classic Original Premium Crafted Rum | 180 ml | 180 |
| 22 | Black By Bacardi Classic Original Premium Crafted Rum | 90 ml | 95 |
| 23 | Black Commander Xxx Rum. | 180 ml | 85 |
| 24 | Black Commander Xxx Rum. | 750 ml- RML | 349 |
| 25 | Black Jaguar Xxx Rum | 750 ml- RML | 349 |
| 26 | Black Jaguar Xxx Rum | 180 ml | 85 |
| 27 | Black Panther Xxx Dark Rum Rml | 180 ml | 85 |
| 28 | Black Panther Xxx Dark Rum Rml | 750 ml- RML | 349 |
| 29 | Captain Morgan The Original Rum | 750 ml | 595 |
| 30 | Captain Morgan The Original Rum | 180 ml | 150 |
| 31 | Captain Morgan The Original Rum | 375 ml | 300 |
| 32 | Episode Deluxe Xxx Rum | 375 ml | 235 |
| 33 | Episode Deluxe Xxx Rum | 180 ml | 120 |
| 34 | Episode Deluxe Xxx Rum | 750 ml | 455 |
| 35 | Impact Red Xxx Rum-Rml | 750 ml- RML | 349 |
| 36 | Impact Red Xxx Rum-Rml | 180 ml | 85 |
| 37 | Imperial Blue Reserve Grain Whisky | 90 ML(100 Bottles) | 85 |
| 38 | Mcdowells No.1 Celebration Xxx Rum– | 375 ml | 240 |
| 39 | Mcdowells No.1 Celebration Xxx Rum– | 180 ml | 125 |
| 40 | Mcdowells No.1 Celebration Xxx Rum– | 750 ml | 455 |
| 41 | Old Fox Matured Xxx Premium Rum | 750 ml | 455 |
| 42 | Old Fox Matured Xxx Premium Rum | 180 ml | 125 |
| 43 | Old Fox Matured Xxx Premium Rum | 375 ml | 240 |
| 44 | Old Monk Matured Xxx Deluxe Rum | 180 ml | 125 |
| 45 | Old Monk Matured Xxx Deluxe Rum | 750 ml | 475 |
| 46 | Old Monk Matured Xxx Deluxe Rum | 375 ml | 245 |
| 47 | Old Monk Rum Very Old Vatted | 375 ml | 300 |
| 48 | Old Monk Rum Very Old Vatted | 180 ml | 150 |
| 49 | Rajputana Xxx Rum-Rml | 750 ml- RML | 349 |
| 50 | Rajputana Xxx Rum-Rml | 180 ml | 85 |
| 51 | Rajwada Special Strong C.L. Rs Base | Nips | 57 |
| 52 | Royal Xxx Rum-Rml | 750 ml- RML | 349 |
| 53 | Royal Xxx Rum-Rml | 180 ml | 85 |
| 54 | Royal Xxx Rum-Rml | A B Pack-180 ml | 84 |
| 55 | Vijeta'S Cash Xxx Rum | 180 ml | 85 |
| 56 | Wild No 1 Celebrate Life Xxx Rum | 180 ml | 85 |
Rajasthan Vodka Rate List
| | | | |
| --- | --- | --- | --- |
| Sl. No. | Vodka Brand Name | Quantity | Price ( Rs.) |
| 1 | 50-50 Vodka | 750 ml- RML | 349 |
| 2 | 50-50 Vodka | 180 ml | 85 |
| 3 | Absolut Citron Lemon Flavored Vodka | 750 ml | 1810 |
| 4 | Absolut Grapefruit Vodka | 750 ml | 2005 |
| 5 | Absolut Lime Flavored Vodka | 750 ml | 1925 |
| 6 | Absolut Mandrin Mandarin Flavored Vodka | 750 ml | 1805 |
| 7 | Absolut Vodka | 750 ml | 1730 |
| 8 | Absolut Vodka | 50 ml (120 Nips) | 155 |
| 9 | Absolut Vodka | 200 ml (24 per Case) | 535 |
| 10 | Absolut Vodka Raspberi | 750 ml | 1930 |
| 11 | Belvedere Vodka | 700 ML (6 Bottle) | 4670 |
| 12 | Bond 121 Apple Vodka | 180 ml | 85 |
| 13 | Bond 121 Lime Vodka | 180 ml | 85 |
| 14 | Bond 121 Orange Vodka | 180 ml | 85 |
| 15 | Bond 121 Vodka | 180 ml | 85 |
| 16 | Camlin Orange Vodka | 180 ml | 85 |
| 17 | Camlin Orange Vodka | 750 ml- RML | 349 |
| 18 | Ciroc Snap Frost Vodka | 750 ml | 3295 |
| 19 | Fiesta Vodka | 750 ml- RML | 349 |
| 20 | Fiesta Vodka | 180 ml | 85 |
| 21 | Grey Goose Vodka | 750 ML (6 Bott.) | 3315 |
| 22 | Honey Trs Orange Flavoured Vodka | 180 ml | 85 |
| 23 | Honey Trs Orange Flavoured Vodka | 750 ml- RML | 349 |
| 24 | Iice Undress The Orange Vodka Platinum | 750 ml | 670 |
| 25 | Iice Undress The Orange Vodka Platinum | 375 ml | 335 |
| 26 | Iice Undress The Orange Vodka Platinum | 180 ml | 170 |
| 27 | Jaipuria Vodka | 180 ml | 85 |
| 28 | Jazz Blue Curacao Vodka | 750 ml | 1615 |
| 29 | Ketel One Vodka | 750 ml | 1770 |
| 30 | Kinght Rider Ultra Premium Classic Orange Vodka | 750 ml | 670 |
| 31 | Kinght Rider Ultra Premium Classic Orange Vodka | 375 ml | 335 |
| 32 | Kinght Rider Ultra Premium Classic Orange Vodka | 180 ml | 170 |
| 33 | Kinght Rider Ultra Premium Classic Vodka | 375 ml | 335 |
| 34 | Kinght Rider Ultra Premium Classic Vodka | 180 ml | 170 |
| 35 | Kinght Rider Ultra Premium Classic Vodka | 750 ml | 670 |
| 36 | Kings Vodka | 750 ml- RML | 349 |
| 37 | Kings Vodka | 180 ml | 85 |
| 38 | Limanov Premium Distilled Vodka Orange Flavour | 375 ml | 230 |
| 39 | Limanov Premium Distilled Vodka Orange Flavour | 750 ml | 455 |
| 40 | Limanov Premium Distilled Vodka Orange Flavour | 180 ml | 120 |
| 41 | Lithuanian Gold Vodka | 700 ML (12 Bottle) | 1690 |
| 42 | Lithuanian Vodka Gold | 700 ML (6 Bottle) | 1755 |
| 43 | M-2 Magic Moments Remix Grapefruit & Watermelon Flavoured Superior Vodka | 180 ml | 170 |
| 44 | M-2 Magic Moments Remix Grapefruit & Watermelon Flavoured Superior Vodka | 375 ml | 340 |
| 45 | M-2 Magic Moments Remix Grapefruit & Watermelon Flavoured Superior Vodka | 750 ml | 680 |
| 46 | M-2 Magic Moments Remix Green Apple Flavoured Superior Vodka | 375 ml | 340 |
| 47 | M-2 Magic Moments Remix Green Apple Flavoured Superior Vodka | 180 ml | 170 |
| 48 | M-2 Magic Moments Remix Green Apple Flavoured Superior Vodka | 750 ml | 680 |
| 49 | M-2 Magic Moments Remix Orange Flavoured Superior Vodka | 180 ml | 170 |
| 50 | M-2 Magic Moments Remix Orange Flavoured Superior Vodka | 375 ml | 340 |
| 51 | M-2 Magic Moments Remix Orange Flavoured Superior Vodka | 750 ml | 680 |
| 57 | M-2 Magic Moments Superior Grain Vodka | 750 ml | 680 |
| 58 | M-2 Magic Moments Superior Grain Vodka | 375 ml | 340 |
| 59 | M-2 Magic Moments Superior Grain Vodka | 180 ml | 170 |
| 60 | M2 Magic Moments Dazzle Special Edition Premium Grain Vodka | 750 ml | 1475 |
| 61 | M2 Magic Moments Dazzle Special Edition Vanilla Flavoured Vodka | 750 ml | 1395 |
| 62 | M2 Magic Moments Verve Lemon Lush Premium Flavoured Vodka. | 180 ml | 255 |
| 63 | Mikhail Premium Orange Vodka | 180 ml | 170 |
| 64 | Mikhail Premium Orange Vodka | 750 ml | 680 |
| 65 | Oasis London High Triple Distilled English Vodka Orange Flav | 375 ml | 335 |
| 66 | Oasis London High Triple Distilled English Vodka Orange Flav | 90 ML(100 Bottles) | 85 |
| 67 | Oasis London High Triple Distilled English Vodka Orange Flav | 180 ml | 170 |
| 68 | Rocking Vodka Orange Flavoured | 750 ml- RML | 349 |
| 69 | Rocking Vodka Orange Flavoured | 180 ml | 85 |
| 70 | Royal Vodka-Rml | 180 ml | 85 |
| 71 | Royal Vodka-Rml | 750 ml- RML | 349 |
| 72 | Russian Romanov Vodka | 180 ml | 115 |
| 73 | Russian Romanov Vodka | 375 ml | 230 |
| 74 | Russian Romanov Vodka | 750 ml | 455 |
| 75 | Russian Standard Vodka | 750 ml | 1820 |
| 76 | Vintage Movement Orange Vodka-Rml | 180 ml | 85 |
| 77 | Vintage Movement Orange Vodka-Rml | 750 ml- RML | 349 |
| 78 | Vintage Orange Orange Vodka | 180 ml | 85 |
| 79 | Vintage Orange Orange Vodka | 750 ml- RML | 349 |
| 80 | White Lace Premium Saunf Vodka-Rml | 750 ml- RML | 349 |
| 81 | White Lace Premium Saunf Vodka-Rml | 180 ml | 85 |
| 82 | White Lace Vodka Orange Flavour-Rml | 750 ml- RML | 349 |
| 83 | White Lace Vodka Orange Flavour-Rml | A B Pack-180 ml | 84 |
| 84 | White Lace Vodka Orange Flavour-Rml | 180 ml | 85 |
| 85 | White Swan Vodka | 750 ml- RML | 349 |
| 86 | White Swan Vodka | 180 ml | 85 |
| 87 | Zubrowka Biala Vodka | 700 ML (6 Bottle) | 1450 |
Rajasthan Beer Price List
| | | | |
| --- | --- | --- | --- |
| Sl. No. | Beer Brand Name | Quantity | Price(Rs.) |
| 1 | Bira91 Blonde Summer Lager Beer | 650 ML | 230 |
| 2 | Bira91 Blonde Summer Lager Beer | 330 ML | 135 |
| 3 | Bira91 Gold Wheat Strong Beer | 500 ml (24 cans) | 175 |
| 4 | Bira91 Gold Wheat Strong Beer | 650 ML | 220 |
| 5 | Budweiser Global King Of Beers | 500 ml (24 cans) | 180 |
| 6 | Budweiser Global King Of Beers | 330 ML | 135 |
| 7 | Budweiser Global King Of Beers | 650 ML | 235 |
| 8 | Budweiser Magnum Global King Of Beers | 500 ml (24 cans) | 220 |
| 9 | Budweiser Magnum Global King Of Beers | 650 ML | 280 |
| 10 | Bullet Super Strong Beer. | 650 ML | 130 |
| 11 | Carlsberg Classic Strong Beer | 650 ML | 185 |
| 12 | Corona Extra Super Premium Beer | 330 ML | 220 |
| 13 | Dare Devil Extra Strong Premium Beer | 650 ML | 135 |
| 14 | Dare Devil Extra Strong Premium Beer | 500 ml (24 cans) | 115 |
| 15 | God Father Super Strong High Power Beer | 650 ML | 135 |
| 16 | God Father Super Strong High Power Beer | 330 ML | 70 |
| 17 | God Father Super Strong High Power Beer Can | 500 ml (24 cans) | 115 |
| 18 | Godfather The Legendary Original Strong Beer | 330 ML | 70 |
| 19 | Godfather The Legendary Original Strong Beer | 650 ML | 135 |
| 20 | Godfather The Legendary Original Strong Beer | 500 ml (24 cans) | 120 |
| 21 | Heineken Lager Beer | 650 ML | 250 |
| 22 | Heineken Lager Beer | 330 ML | 145 |
| 23 | Heineken Lager Beer | 500 ml (24 cans) | 200 |
| 24 | King Fisher Strong Premium Beer | 650 ML | 135 |
| 25 | King Fisher Strong Premium Beer | 330 ML | 75 |
| 26 | Kingfisher Premium Lager Beer | 330 ML | 75 |
| 27 | Kingfisher Premium Lager Beer | 650 ML | 130 |
| 28 | Kingfisher Premium Lager Beer Can | 500 ml (24 cans) | 110 |
| 29 | Kingfisher Storm Super Strong Beer | 650 ML | 170 |
| 30 | Kingfisher Storm Super Strong Beer | 500 ml (24 cans) | 150 |
| 31 | Kingfisher Ultra Max Super Premium Strong Beer | 650 ML | 220 |
| 32 | Kingfisher Ultra Max Super Premium Strong Beer | 500 ml (24 cans) | 180 |
| 33 | Kingfisher Ultra Max Super Premium Strong Beer | 330 ML | 130 |
| 34 | Kingfisher Ultra Premium Lager Beer | 500 ml (24 cans) | 170 |
| 35 | Kingfisher Ultra Premium Lager Beer | 330 ML | 115 |
| 36 | Kingfisher Ultra Premium Lager Beer | 650 ML | 210 |
| 37 | Kingfishersuper Strong Premium Beer Can | 500 ml (24 cans) | 120 |
| 38 | Kotsberg Original Pils Beer. | 330 ML | 100 |
| 39 | Kotsberg Original Pils Beer. | 650 ML | 180 |
| 40 | Kotsberg Strong Premium Beer | 650 ML | 180 |
| 41 | Kotsberg Strong Premium Beer | 500 ml (24 cans) | 145 |
| 42 | Original Bira 91 Strong Beer | 650 ML | 250 |
| 43 | Original Bira 91 Strong Beer | 500 ml (24 cans) | 235 |
| 44 | Original Bira 91 White Beer | 500 ml (24 cans) | 260 |
| 45 | Original Bira 91 White Beer | 330 ML | 185 |
| 46 | Peroni Nastro Azzuro Beer | 330 ML | 410 |
| 47 | Prince 6000 Premium Strong Beer | 500 ml (24 cans) | 110 |
| 48 | Prince 6000 Premium Strong Beer | 650 ML | 130 |
| 49 | Six Fields Blanche Original Wheat Beer | 330 ML | 185 |
| 50 | Six Fields Cult Original Strong Wheat Beer | 500 ml (24 cans) | 240 |
| 51 | Six Fields Cult Original Strong Wheat Beer | 650 ML | 295 |
| 52 | Tuborg Classic Gold Strong Beer | 650 ML | 155 |
| 53 | Tuborg Classic Goldstrong 4g Beer | 500 ml (24 cans) | 125 |
| 54 | Tuborg Premium Mild Beer | 650 ML | 130 |
| 55 | Tuborg Premium Mild Beer | 330 ML | 75 |
| 56 | Tuborg Strong Beer | 650 ML | 135 |
| 57 | Tuborg Strong Beer | 330 ML | 75 |
| | |
| --- | --- |
| Author | Rajasthan Government |
| Language | English |
| No. of Pages | 17 |
| PDF Size | 0.04 MB |
| Category | State Liquor Price |
| Source/Credits | rajexcise.gov.in |
Related PDFs
Rajasthan(RJ) Liquor Price List 2023
PDF Free Download