'Odisha Liquor Rate List' PDF Quick download link is given at the bottom of this article. You can see the PDF demo, size of the PDF, page numbers, and direct download Free PDF of 'Odisha Wine And Whisky Price List' using the download button.
Odisha Liquor/Beverages/Wine/Beer New Price List PDF Free Download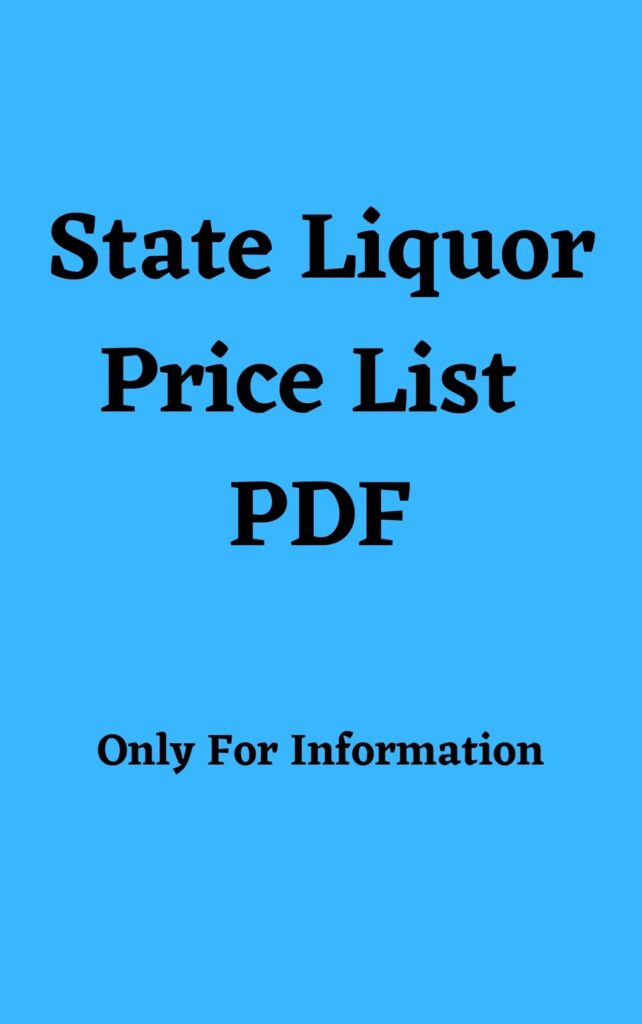 उड़ीसा अंग्रेजी शराबों की रेट लिस्ट
Note 1: We are not selling or promoting any type of Liquor here. We are providing a list of the price of liquor that is set by the state government after cutting taxes. This post is only for informational purposes. And we publish this type of price list only for that states where liquor is not banned.
Whisky Price List In Odisha
| | | |
| --- | --- | --- |
| Whisky Brand Name List | Whisky Brand Quantity | Whisky Bran Price List |
| GHOST Rare Herbal Whisky | 750Ml | 800 |
| GHOST Rare Herbal Whisky | 375Ml | 400 |
| GHOST Rare Herbal Whisky | 180Ml | 200 |
| GHOST Rare Herbal Whisky | 90Ml | 110 |
| NO LIMITS Premium Herbal Whisky | 750Ml | 900 |
| NO LIMITS Premium Herbal Whisky | 375Ml | 450 |
| NO LIMITS Premium Herbal Whisky | 180Ml | 230 |
| NO LIMITS Premium Herbal Whisky | 90Ml | 120 |
| RIF RAF Vintage Herbal Whisky | 750Ml | 1270 |
| RIF RAF Vintage Herbal Whisky | 375Ml | 650 |
| RIF RAF Vintage Herbal Whisky | 180Ml | 330 |
| RIF RAF Vintage Herbal Whisky | 90Ml | 170 |
| 8 PM Select Rare Blend Of Indian Whisky & Malt | 750Ml | 700 |
| 8 PM Select Rare Blend Of Indian Whisky & Malt | 375Ml | 350 |
| 8 PM Select Rare Blend Of Indian Whisky & Malt | 180Ml | 170 |
| 8 PM Select Rare Blend Of Indian Whisky & Malt | 90Ml | 90 |
| AC Neat Premier Whisky | 750Ml | 760 |
| AC Neat Premier Whisky | 375Ml | 380 |
| AC Neat Premier Whisky | 180Ml | 190 |
| AC Neat Premier Whisky | 90Ml | 100 |
| AC Sek C Sabki Ek Choice Prestige Whisky | 750Ml | 730 |
| AC Sek C Sabki Ek Choice Prestige Whisky | 375Ml | 360 |
| AC Sek C Sabki Ek Choice Prestige Whisky | 180Ml | 190 |
| AC Sek C Sabki Ek Choice Prestige Whisky | 90Ml | 100 |
| Addiction Rare Whisky | 750Ml | 730 |
| Addiction Rare Whisky | 375Ml | 370 |
| Addiction Rare Whisky | 180Ml | 180 |
| Addiction Rare Whisky | 90Ml | 100 |
| After Dark Premium Grain Whisky | 750Ml | 1000 |
| After Dark Premium Grain Whisky | 375Ml | 500 |
| After Dark Premium Grain Whisky | 180Ml | 250 |
| Alpha Q Deluxe Whisky | 750Ml | 740 |
| Alpha Q Deluxe Whisky | 375Ml | 190 |
| Antiquity Blue Ultra Premimum Whisky | 750Ml | 1430 |
| Antiquity Blue Ultra Premimum Whisky | 375Ml | 720 |
| Antiquity Blue Ultra Premimum Whisky | 180Ml | 360 |
| Aristocrat Old Reserve Whisky | 750Ml | 730 |
| Aristocrat Old Reserve Whisky | 375Ml | 370 |
| Aristocrat Old Reserve Whisky | 180Ml | 180 |
| Aristocrat Old Reserve Whisky | 90Ml | 100 |
| Aristocrat Premium Classic Whisky | 750Ml | 820 |
| Aristocrat Premium Classic Whisky | 375Ml | 410 |
| Aristocrat Premium Classic Whisky | 180Ml | 200 |
| Aristocrat Premium Classic Whisky | 90Ml | 110 |
| Bagpiper Delux Whisky | 750Ml | 730 |
| Bagpiper Delux Whisky | 375Ml | 370 |
| Bagpiper Delux Whisky | 180Ml | 180 |
| Bagpiper Delux Whisky | 90Ml | 100 |
| Bhutan Blue Classic Grain Whisky | 750Ml | 760 |
| Bhutan Blue Classic Grain Whisky | 375Ml | 390 |
| Bhutan Blue Classic Grain Whisky | 180Ml | 190 |
| Bhutan Blue Classic Grain Whisky | 90Ml | 100 |
| Black Dog Centernary Black Reserve Aged & Rare Blended Scotch Whisky | 750Ml | 1730 |
| Black Dog Centernary Black Reserve Aged & Rare Blended Scotch Whisky | 375Ml | 885 |
| Black Dog Centernary Black Reserve Aged & Rare Blended Scotch Whisky | 180Ml | 460 |
| Colonel's Special Premium & Rare Whsky | 750Ml | 830 |
| Colonel's Special Premium & Rare Whsky | 375Ml | 420 |
| Colonel's Special Premium & Rare Whsky | 180Ml | 200 |
| Cutty Sark Blended Scotch Whisky | 750Ml | 2430 |
| Cutty Sark Blended Scotch Whisky | 375Ml | 905 |
| Cutty Sark Blended Scotch Whisky | 180Ml | 465 |
| Cutty Sark Blended Scotch Whisky | 90Ml | 320 |
| D&G Directors Goal Rare Premimum Whisky | 750Ml | 1300 |
| D&G Directors Goal Rare Premimum Whisky | 375Ml | 650 |
| D&G Directors Goal Rare Premimum Whisky | 180Ml | 330 |
| Dennis Special Whisky | 750Ml | 820 |
| Dennis Special Whisky | 375Ml | 420 |
| Dennis Special Whisky | 180Ml | 210 |
| Dennis Special Whisky | 90Ml | 110 |
| Diplomat Deluxe Whisky | 750Ml | 730 |
| Diplomat Deluxe Whisky | 375Ml | 370 |
| Diplomat Deluxe Whisky | 180Ml | 180 |
| Diplomat Deluxe Whisky | 90Ml | 100 |
| Front Line Superior Grain Whisky | 750Ml | 730 |
| Front Line Superior Grain Whisky | 375Ml | 360 |
| Front Line Superior Grain Whisky | 180Ml | 180 |
| Front Line Superior Grain Whisky | 90Ml | 180 |
| Gold House Select Grain Whisky | 750Ml | 860 |
| Gold House Select Grain Whisky | 375Ml | 430 |
| Gold House Select Grain Whisky | 180Ml | 220 |
| Granton Whisky | 750Ml | 910 |
| Granton Whisky | 375Ml | 450 |
| Granton Whisky | 180Ml | 240 |
| Impression Whisky | 750Ml | 820 |
| Impression Whisky | 375Ml | 410 |
| Impression Whisky | 180Ml | 210 |
| Impression Whisky | 90Ml | 100 |
| LE ROI Black Premium Reserva Whisky | 750Ml | 930 |
| LE ROI Black Premium Reserva Whisky | 375Ml | 470 |
| LE ROI Black Premium Reserva Whisky | 180Ml | 240 |
| Maria Indian Single Malt Whisky | 750Ml | 3260 |
| Maria Indian Single Malt Whisky | 375Ml | 1630 |
| Maria Indian Single Malt Whisky | 180Ml | 830 |
| Mc Dowell's No 1 Platinum Luxury Whisky | 750Ml | 910 |
| Mc Dowell's No 1 Platinum Luxury Whisky | 375Ml | 460 |
| Mc Dowell's No 1 Platinum Luxury Whisky | 180Ml | 230 |
| Mc Dowell's No. 1 Luxury Premium Whisky | 750Ml | 830 |
| Mc Dowell's No. 1 Luxury Premium Whisky | 375Ml | 420 |
| Mc Dowell's No. 1 Luxury Premium Whisky | 180Ml | 210 |
| Mc Dowell's No. 1 Luxury Premium Whisky | 90Ml | 110 |
| Oakton Barel Aged Rare Premium Grain Whisky | 750Ml | 1280 |
| Oakton Barel Aged Rare Premium Grain Whisky | 375Ml | 650 |
| Oakton Barel Aged Rare Premium Grain Whisky | 180Ml | 320 |
| Officer's Choice Blue Deluxe Grain Whisky | 750Ml | 830 |
| Officer's Choice Blue Deluxe Grain Whisky | 375Ml | 420 |
| Officer's Choice Blue Deluxe Grain Whisky | 180Ml | 210 |
| Officer's Choice Blue Deluxe Grain Whisky | 90Ml | 110 |
| Officer's Choice Prestige Whisky | 750Ml | 730 |
| Officer's Choice Prestige Whisky | 375Ml | 370 |
| Officer's Choice Prestige Whisky | 180Ml | 180 |
| Officer's Choice Prestige Whisky | 90Ml | 100 |
| Old Professor Gold reserve Whisky | 750Ml | 910 |
| Old Professor Gold reserve Whisky | 375Ml | 460 |
| Old Professor Gold reserve Whisky | 180Ml | 230 |
| Red Kinght Finest Blended Malt Whisky | 750Ml | 950 |
| Red Kinght Finest Blended Malt Whisky | 375Ml | 480 |
| Red Kinght Finest Blended Malt Whisky | 180Ml | 240 |
| Royal Challenge Finest Premium Whisky | 750Ml | 980 |
| Royal Challenge Finest Premium Whisky | 375Ml | 500 |
| Royal Challenge Finest Premium Whisky | 180Ml | 250 |
| Royal Challenge Finest Premium Whisky | 90Ml | 130 |
| Seagram's Imperial Blue Finest Grain Whisky | 750Ml | 830 |
| Seagram's Imperial Blue Finest Grain Whisky | 375Ml | 430 |
| Seagram's Imperial Blue Finest Grain Whisky | 180Ml | 210 |
| Seagram's Imperial Blue Finest Grain Whisky | 90Ml | 110 |
| Signature Premier Grain Whisky | 750Ml | 1100 |
| Signature Premier Grain Whisky | 375Ml | 560 |
| Signature Premier Grain Whisky | 180Ml | 280 |
| Sterling Reserve B10 Whisky | 750Ml | 1320 |
| Sterling Reserve B10 Whisky | 375Ml | 670 |
| Sterling Reserve B10 Whisky | 180Ml | 340 |
| Teacher's Highland Cream Blended Scotch Whisky | 750Ml | 2950 |
| Teacher's Highland Cream Blended Scotch Whisky | 375Ml | 1510 |
| The Impression Classic Superior Grain Whisky | 375Ml | 430 |
| The Impression Classic Superior Grain Whisky | 180Ml | 210 |
| White & Blue Premium Whisky | 750Ml | 910 |
| White & Blue Premium Whisky | 180Ml | 230 |
| White & Blue Premium Whisky | 90Ml | 120 |
| White Hills Reserve Whisky | 375Ml | 420 |
| White Hills Reserve Whisky | 90Ml | 110 |
Rum Price List In Odisha
| | | |
| --- | --- | --- |
| Odisha RUM Brand Name | Quantity | Price |
| GHOST Dark Herbal RUM | 750ml | 730 |
| GHOST Dark Herbal RUM | 375ml | 370 |
| GHOST Dark Herbal RUM | 180ml | 190 |
| GHOST Dark Herbal RUM | 90ml | 100 |
| 1965 Spirit Of Victory Premium XXX RUM | 750ml | 800 |
| 1965 Spirit Of Victory Premium XXX RUM | 375ml | 400 |
| 1965 Spirit Of Victory Premium XXX RUM | 180ml | 200 |
| AD 79 RUM | 750ml | 730 |
| AD 79 RUM | 375ml | 370 |
| AD 79 RUM | 180ml | 180 |
| AD 79 RUM | 90ml | 100 |
| Becardi Apple Original Apple RUM | 750ml | 1150 |
| Becardi Apple Original Apple RUM | 375ml | 590 |
| Becardi Apple Original Apple RUM | 180ml | 300 |
| Bacardi Carta Blanca Super Premium Superior White Rum | 750ml | 1150 |
| Bacardi Carta Blanca Super Premium Superior White Rum | 375ml | 580 |
| Bacardi Carta Blanca Super Premium Superior White Rum | 180ml | 290 |
| Bacardi Carta Blanca Super Premium Superior White Rum | 90ml | 150 |
| Beach House XXX Premium RUM | 750ml | 740 |
| Beach House XXX Premium RUM | 375ml | 370 |
| Beach House XXX Premium RUM | 180ml | 180 |
| Black Berry Authentic XXX RUM | 750ml | 720 |
| Black Berry Authentic XXX RUM | 375ml | 370 |
| Black Berry Authentic XXX RUM | 180ml | 180 |
| Black Berry Authentic XXX RUM | 90ml | 100 |
| Black Bull Deluxe XXX Rum | 750ml | 730 |
| Black Bull Deluxe XXX Rum | 375ml | 370 |
| Black Bull Deluxe XXX Rum | 180ml | 190 |
| Black Bull Deluxe XXX Rum | 90ml | 100 |
| Captain Morgan The Original RUM | 750ml | 780 |
| Captain Morgan The Original RUM | 375ml | 400 |
| Captain Morgan The Original RUM | 90ml | 100 |
| Commander N Chief Matured XXX RUM | 750ml | 700 |
| Commander N Chief Matured XXX RUM | 180ml | 180 |
| Commander N Chief Matured XXX RUM | 90ml | 90 |
| Contessa XXX RUM | 750ml | 680 |
| Contessa XXX RUM | 375ml | 360 |
| Contessa XXX RUM | 180ml | 180 |
| Contessa XXX RUM | 90ml | 100 |
| Dark Knight Matured XXX Rum | 750ml | 720 |
| Dark Knight Matured XXX Rum | 375ml | 360 |
| Dark Knight Matured XXX Rum | 180ml | 190 |
| Day & Night Deluxe XXX RUM | 750ml | 740 |
| Day & Night Deluxe XXX RUM | 180ml | 190 |
| Episode Deluse XXX Rum | 750ml | 700 |
| Episode Deluse XXX Rum | 375ml | 350 |
| Episode Deluse XXX Rum | 180ml | 180 |
| Episode Deluse XXX Rum | 90ml | 90 |
| Gold House XXX Premimum Rum | 750ml | 860 |
| Gold House XXX Premimum Rum | 375ml | 430 |
| Gold House XXX Premimum Rum | 180ml | 220 |
| Hercules XXX Rum | 750ml | 780 |
| Hercules XXX Rum | 375ml | 400 |
| Hercules XXX Rum | 180ml | 200 |
| Jackies Crown Black Finest Blended RUM | 750ml | 850 |
| Jackies Crown Black Finest Blended RUM | 180ml | 210 |
| Jackies Crown Black Finest Blended RUM | 90ml | 110 |
| Lion Daddy Premium Dark RUM | 750ml | 820 |
| Lion Daddy Premium Dark RUM | 375ml | 420 |
| Lion Daddy Premium Dark RUM | 180ml | 210 |
| Maharani Gold XXX RUM | 750ml | 740 |
| Maharani Gold XXX RUM | 180ml | 190 |
| Mc Dowell's No 1 Cariba Premium Gold RUM | 750ml | 750 |
| Mc Dowell's No 1 Cariba Premium Gold RUM | 375ml | 380 |
| Mc Dowell's No 1 Cariba Premium Gold RUM | 90ml | 100 |
| Officer's Choice Rare XXX Rum | 750ml | 700 |
| Officer's Choice Rare XXX Rum | 375ml | 350 |
| Officer's Choice Rare XXX Rum | 180ml | 180 |
| Old Monk Apple Rum | 750ml | 870 |
| Old Monk Apple Rum | 375ml | 440 |
| Old Monk Apple Rum | 180ml | 220 |
| Old Scot XXX Rum | 750ml | 610 |
| Old Scot XXX Rum | 180ml | 150 |
| Old Scot XXX Rum | 90ml | 90 |
| Red Lady XXX Rum | 750ml | 1040 |
| Red Lady XXX Rum | 375ml | 520 |
| Red Lady XXX Rum | 180ml | 260 |
| RUM 99 Ninety Nine XXX RUM | 750ml | 770 |
| RUM 99 Ninety Nine XXX RUM | 375ml | 390 |
| RUM 99 Ninety Nine XXX RUM | 180ml | 220 |
| Seagram's Imperial Red Rum | 750ml | 780 |
| Seagram's Imperial Red Rum | 375ml | 390 |
| Seagram's Imperial Red Rum | 180ml | 190 |
| Sikkim XXX Prize Rum | 750ml | 700 |
| Sikkim XXX Prize Rum | 180ml | 170 |
| Sikkim XXX Prize Rum | 90ml | 100 |
| Soldier's Pride XXX Classic Rum | 750ml | 700 |
| Soldier's Pride XXX Classic Rum | 180ml | 180 |
| Soldier's Pride XXX Classic Rum | 90ml | 90 |
Vodka Price List In Odisha
| | | |
| --- | --- | --- |
| Odisha Vodka Brand Name | Quantity | Price |
| Absolut Vodka | 200Ml | 810 |
| Absolut Vodka | 750Ml | 2860 |
| Artic Pure Itallian Luxury Vodka | 180Ml | 1350 |
| Artic Pure Itallian Luxury Vodka | 750Ml | 340 |
| Blue Eyes Pure Grain Vodka | 750Ml | 820 |
| Blue Eyes Pure Grain Vodka | 375Ml | 420 |
| Class 21 Grain Vodka | 750Ml | 730 |
| Class 21 Grain Vodka | 375Ml | 370 |
| Class 21 Grain Vodka | 90Ml | 100 |
| Fashion Party Collection Vodka | 750Ml | 1220 |
| Fashion Party Collection Vodka | 180Ml | 300 |
| Knght Rider Premium Vodka | 375Ml | 390 |
| Knght Rider Premium Vodka | 180Ml | 200 |
| M2 Magic Moments Remix Smooth Flavoured Vodka Green Apple | 750Ml | 900 |
| M2 Magic Moments Remix Smooth Flavoured Vodka Green Apple | 375Ml | 450 |
| M2 Magic Moments Remix Smooth Flavoured Vodka Green Apple | 180Ml | 230 |
| Magic Moments Pure Grain Vodka | 750Ml | 820 |
| Magic Moments Pure Grain Vodka | 375Ml | 420 |
| Magic Moments Pure Grain Vodka | 180Ml | 210 |
| Magic Moments Pure Grain Vodka | 90Ml | 110 |
| Magic Moments Remix Flavoured Vodka Chocolate | 750Ml | 900 |
| Moonwalk Premium Vodka | 750Ml | 730 |
| Moonwalk Premium Vodka | 375Ml | 370 |
| Seagrams Fuel vodka Green Apple | 750Ml | 890 |
| Seagrams Fuel vodka Green Apple | 180Ml | 220 |
| V2 O Fine Pure Grain Vodka Smooth | 750Ml | 820 |
| V2 O Fine Pure Grain Vodka Smooth | 180Ml | 210 |
| Volga Premium Grain Vodka | 750Ml | 690 |
| Volga Premium Grain Vodka | 90Ml | 90 |
| White Mischief Ultra Pure vodka | 750Ml | 760 |
| White Mischief Ultra Pure vodka | 90Ml | 100 |
Beer Price List In Odisha
| | | |
| --- | --- | --- |
| Odisha Beer Brand Name | Quantity | Price |
| Beck's Ice Superior Strength Beer Can | 500Ml | 170 |
| Beck's Ice Superior Strength Beer | 650Ml | 210 |
| Black Fort Premium Lager Beer | 650Ml | 140 |
| Budweiser Magnum Beer Can | 500ml | 200 |
| Budweiser Magnum Beer | 500Ml | 260 |
| Cats Eyes Strong Beer | 650Ml | 170 |
| Chabchhu Super Strong Beer | 650Ml | 170 |
| Corona Extra Beer | 335Ml | 260 |
| Dansberg 16000 Super Strong Beer | 650Ml | 180 |
| Dansberg Blue Premium Lager Beer | 650Ml | 140 |
| Denzong 9000 The Strong Beer | 650Ml | 170 |
| Fosters Gold Strong Beer | 650Ml | 190 |
| Godfather Electra International Quality Beer | 500Ml | 160 |
| Godfather Electra Premium Strong Beer | 650Ml | 200 |
| Heineken Lager Beer | 330Ml | 160 |
| Heineken Lager Beer | 500Ml | 200 |
| Heineken Lager Beer | 650Ml | 250 |
| He-Man 9000 Gold Ultra Sper Strong Beer | 650Ml | 170 |
| Hunter Superior Strong Premium Beer | 500Ml | 140 |
| Hunter Ultra Strong Premium Beer | 650Ml | 190 |
| Jumbo Club Strong Beer | 650Ml | 180 |
| Jungle King Real Strong Beer | 650Ml | 180 |
| King Fisher Blue Premium Can | 500Ml | 170 |
| King Fisher Blue Premium Beer | 330Ml | 110 |
| King Fisher Blue Premium Beer | 650Ml | 200 |
| King Fisher Premium Lager Beer | 330Ml | 80 |
| King Fisher Premium Lager Beer | 650Ml | 140 |
| Power 10000 Extra Strong Beer | 650Ml | 170 |
| Power Cool Super Strong Beer | 650Ml | 160 |
| Royal Challanger Premium Lager Beer | 650Ml | 140 |
| Sir John Strong Beer | 650Ml | 190 |
| Super Strong 7 Hills Beer | 650Ml | 170 |
| Super Strong M Power Beer | 650Ml | 190 |
| The Original Haywards 5000 classic Premium Strong Beer | 650Ml | 180 |
| The Original Haywards 5000 Super Strong Beer | 650Ml | 180 |
| Thunder 15000 Strong Beer | 650Ml | 210 |
| Young Fisherman Beer | 650Ml | 180 |
| | |
| --- | --- |
| Author | OSBL |
| Language | English |
| No. of Pages | 60 |
| PDF Size | 5 MB |
| Category | State Liquor Price |
| Source/Credits | osbc.co.in |
Related PDFs
Odisha Liquor Price List PDF Free Download