Shivaji Maharaj History Book PDF Free Download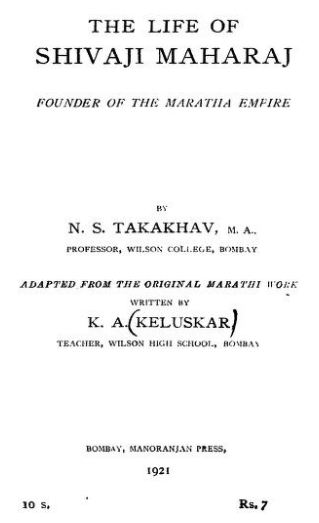 SHIVAJI MAHARAJ Complete Biography
Shivaji Maharaj, the illustrious founder of the Maratha Power, derived his descent from the renowned Bhonsle family.
This noble Maratha house claimed an ancient Kshatriya origin.
It is said that the family was transferred to the uplands of Maharashtra by a Rajput warrior, Devraj Maharana by name.
The family tradition tells a long tale of chequered adventures and vicissitudes.
In what is now known as the modern province of Oudh, there ruled for cen- tries the ancient princes of the Royal Sisodia family.
They claimed descent from the mythical Solar Race, which along with the Lunar Race comprises the genealogy of every Kshatriya family in the land.
One of these Sisodia princes crossed the Narbada and became the founder of an independent principality on its southern banks.
The fortunes of this family were, however, destined to wane before the rising glory of the famous Sullivan, who inaugurated a new Hindu era, which is still current south of the Narbada.
The ruling Bhonsle prince of the time was defeated and his kingdom annexed.
At this crisis, the afflicted queen of the prince escaped with her young son of five or six years across the Narbada and sought shelter in the inhospitable regions of Mewar in the vicinity of the Vindhya Mountains.
There she found an asylum in a poor Brahman family, her son keeping the Brahman's kine.
Once while out engaged on his cow-herd duties the boy discovered a hidden treasure.
This he disclosed to his patron and acquainted him with the story of his origin and fall.
The Brahman listened with sympathy and encouraged and exhorted him to endeavor to recover his royal power, giving him to that end every assistance within his means.
| | |
| --- | --- |
| Author | N. S. Takakhav |
| Language | English |
| No. of Pages | 672 |
| PDF Size | 57.3 MB |
| Category | Biography |
Also Read:
The Life Of Shivaji Maharaj Book PDF Free Download