'Speech on Independence Day in English' PDF Quick download link is given at the bottom of this article. You can see the PDF demo, size of the PDF, page numbers, and direct download Free PDF of 'Heart touching speech on 15th August Independence Day' using the download button.
Independence Day Speech In English PDF Free Download
Independence Day Speech in English 2023 PDF Summary
Hello friends, today we are going to upload the Independence Day Speech in English 2023 PDF to help you all.
We celebrate 15th August every year as a national holiday in India to commemorate the nation's independence from the United Kingdom on 15th August 1947.
This is the day when the provisions of the Indian Independence Act of 1947 came into force.
It transferred legislative sovereignty to the Constituent Assembly of India.
Independence coincided with the partition of India, in which British India was divided on religious lines into the dominions of India and Pakistan.
Independence Day Long & Short Speech In English
Speech No.1
Good Morning Everyone!
Today we all are here to acknowledge our privilege of being born in a Free India and celebrate the 75th Independence Day of our country.
We need to ask those born before 1947, to know the pangs of the anguish of being enslaved under colonial rule. For every Indian in those days, it was indeed a Herculean task to fight against those powerful giants – the British.
Those difficult times and struggles must not be allowed to fade away from our memories.
Hence, every Independence Day, we not only celebrate our freedom, but we also pay tribute to the ones who fought for it, to the ones who held a vision for our country, and to the ones who sacrificed themselves for the same.
The idea of being an independent nation, where sovereign power lies with us to determine our future, places a huge responsibility on our shoulders.
The significance of its beautiful story is that this nation has gained respect from the world for the democratic route chosen by it. We can proudly say that India has never invaded any country in its 10000 years of history.
On this occasion, our thoughts turn first to Mahatma Gandhi, the man behind our struggle for freedom, and the martyrs who made the supreme sacrifice for our country's liberty.
We are also reminded of the relentless struggle of our great patriots who liberated our motherland from colonial rule.
Gandhiji was seeking liberty from both foreign rule and the indigenous social chains that had long incarcerated our society.
Every other Indian was guided on a path of self-belief and hope for a better future. Democracy gives us the right to live freely as proud citizens of a country.
Today, we are fortunate to live in one, due to the vision and sacrifice of our freedom fighters.
There is a big celebration each year in New Delhi at Rajpath, where the national anthem is sung after the Prime Minister hoists the flag.
Also, a salute is given to the national flag by firing 21 guns with the national anthem, and flowers are also showered via helicopter. All the forces take part in parades.
In the end, we can not merely say that 15th August is solely about freedom.
This day is a plethora of emotions, it reminds us of the pain of being enslaved; of the strength in unity; it defines sacrifice, it gives us an example that some wars can be won with non-violence and of all the things, it makes us value and cherishes the freedom we have today.
It is our responsibility, as proud citizens of this country, to sincerely perform our duty and progress together for the growth and development of our country.
Keeping the sacrifices of our ancestors in mind, we should take an oath, to carve a better future for our motherland.
Speech No.2
Here is the draft of the August 15 Independence Day speech:
My fellow Indians,
Today we are celebrating our 77th Independence Day unitedly as a proud nation. On this day, in 1947, our country broke free from the shackles of British rule and became a sovereign, democratic republic.
After almost two hundred years of oppression and injustice under colonial rule, we got freedom because of the innumerable sacrifices of our great freedom fighters. From Mahatma Gandhi's non-violent movement to Netaji Subhash Chandra Bose's Indian National Army, Quit India Movement, Royal Indian Navy mutiny, and many other acts of courage and rebellion, Indians from all walks of life united under a common mission to liberate India.
Independence Day is the celebration of our nationhood. It is a tribute to our founders, who drafted the Constitution of India that guides the world's third-largest democracy. On this day, we remember leaders like Pandit Jawaharlal Nehru, whose famous words, "While the world sleeps, India shall awake to life and liberty," instilled hope in the hearts of Indians during the middle of the night.
India has come a long way since 1947. We have made tremendous progress in science, technology, education, art, culture, and other fields. Our citizens have excelled in almost every field from sports to medicine and space exploration. The 'Make in India' initiative has boosted manufacturing and promoted Indian brands globally. The Digital India campaign has improved access to technology for common Indians. Skill India Mission aims to train over 400 million people by 2022.
But the fight for freedom is not over yet. There are still many challenges to overcome in order to truly live up to the ideals of our Constitution. Poverty, illiteracy, corruption, violence against women, and marginalized communities are issues plaguing our society. On this Independence Day, let us resolve to tackle these problems with the same spirit of unity, dedication, and patriotism that defined our freedom movement.
As we celebrate the birth of a great nation, let us remember our duty toward building a just, inclusive, and progressive society. Our diversity is our strength. We should respect the contribution of all communities, castes, cultures, languages, and religions in the progress of India. Let us renew our commitment to serve Mother India.
Jai Hind! I salute you, Mother!
Speech No. 3
My fellow Indians,
Today, on our 77th Independence Day, as the tricolor flies high and we hear the melodious rendition of our national anthem, our hearts fill with love and pride for our great nation. On this day in 1947, we were finally freed from the shackles of British rule after a long and relentless freedom struggle.
We remember with deep gratitude our brave hearts who sacrificed their lives so that generations to come may live in a free India. Patriots like Bhagat Singh, who kissed the noose by writing 'Bharat Ki Jai' on his lips. Fearless warriors like Rani Lakshmi Bai, who fought the British with her infant son tied on her back. Poor farmers of Champaran joined Gandhiji's Satyagraha to get relief from oppression. During the Quit India movement, the people who came to the streets faced bullets and sticks with indomitable courage. Their sacrifice inspires us to build the India of their dreams.
Independence Day is a celebration of our nationalism, our hard-earned freedom. But it is also a time for reflection and introspection. Because there are still millions of our fellow Indians who lead lives not much different from the days of colonial rule. Farmers committing suicide due to poverty, children dying of malnutrition, youth struggling with unemployment, and women facing violence and discrimination. Marginalized sections are constantly fighting for dignity and equal rights. Let us take a pledge on this day to free India from such evils.
As we proudly sing our National Anthem, let us truly imbibe its spirit of unity and justice. Let us bridge the gulfs of religion, caste, class, and language that divide us. Let us nurture the seeds of harmony, equality, and brotherhood sown by our Constitution. Let us rise above our differences and work shoulder-to-shoulder to transform India into a land of opportunity, prosperity, and freedom for all.
Jai Hind!
| | |
| --- | --- |
| Language | English |
| No. of Pages | 2 |
| PDF Size | 0.2 MB |
| Category | Education |
| Source/Credits | PanotBook.com |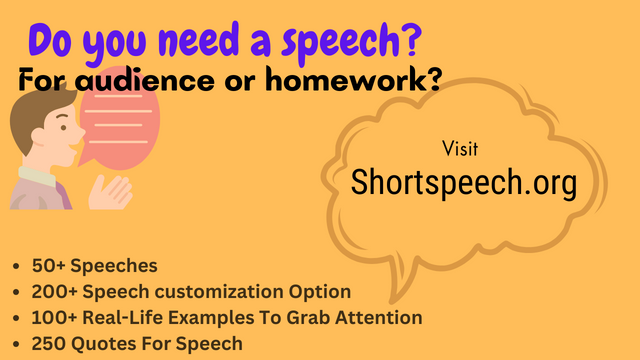 Related PDFs
Indian Film Shooting Revised Guidelines PDF
DSSSB Vacancy 2023 Notification PDF
Indian National Anthem Lyrics And Guideline PDF
Independence Day Anchoring Script PDF
സ്വാതന്ത്ര്യ ദിന പ്രസംഗം മലയാളം pdf
Independence Day Speech in English PDF Free Download