'Staff Selection Commission (SSC)' PDF Quick download link is given at the bottom of this article. You can see the PDF demo, size of the PDF, page numbers, and direct download Free PDF of 'SSC MTS Syllabus' using the download button.
SSC MTS Syllabus PDF Free Download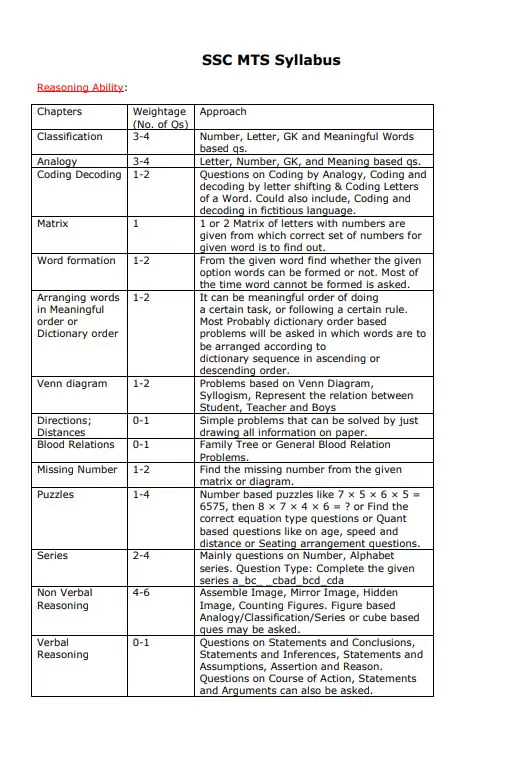 SSC MTS Syllabus
As you know, SSC MTS 2023 Paper-1 exam is scheduled to be held from 02nd to 19th May 2023 and 13th to 20th June 2023, therefore the candidates interested in this recruitment drive must begin with their preparation for the upcoming exam.
In this article, we are covering SSC MTS Syllabus and Exam Pattern for the year 2023 Exam in detail.
The SSC MTS Syllabus consists of 4 sections including Reasoning Ability, Numerical Aptitude, English Language, and General Awareness.
This article includes SSC MTS Syllabus sections along with the no.
SSC MTS Syllabus 2023
To get a fair idea about SSC MTS 2023 Syllabus, it is necessary to know the exam pattern for the same.
Let's have a look at the SSC MTS 2023 Exam Pattern and detailed SSC MTS Syllabus 2023 in the below section.
If you are preparing for SSC MTS Exam, then go through the complete article and prepare accordingly.
SSC MTS Syllabus 2023
Organisation
Staff Selection Commission (SSC)
Exam Name
Organization
Category
Syllabus
SSC MTS Exam Date 2023
02nd to 19th May 2023 and 13th to 20th June 2023
Selection Process
Computer Based TestPhysical Efficiency Test (PET)/ Physical Standard Test (PST) (only for the post of Havaldar)
No. of Questions
90
Max. Marks
270
Negative Marking
Session 1- No negative marking
Session 2- 1 mark
Official website
www.ssc.nic.in
SSC MTS Paper-I Exam Pattern (Revised)
The revised SSC MTS Paper-I Exam Pattern has been released along with SSC MTS Notification 2023 and the same has been tabulated below.
Computer-Based Examination will be conducted in 2 Sessions.
Session-I and Session-II and both the Sessions will be mandatory to be attempted.
Not attempting any session will disqualify the candidate.
There will be a negative marking of 1 mark for each wrong answer in Session 2 while there will be no negative marking in Session 1.
Subject
No. Of Questions
Marks
Duration
Session 1
Numerical and Mathematical Ability
20
60
45 minutes
Reasoning Ability and Problem-Solving
20
60
Total
40
120
Session 2
General Awareness
25
75
45 minutes
English Language and Comprehension
25
75
Total
50
150
SSC MTS Syllabus for Paper-1
SSC MTS Syllabus for Numerical Aptitude
SSC MTS Numerical Aptitude Syllabus
Integers and Whole Numbers, LCM and HCFDecimals and FractionsRelationship between numbersFundamental Arithmetic OperationsBODMASPercentageRatio and ProportionsWork and TimeDirect and inverse ProportionsAveragesSimple InterestProfit and LossDiscountArea and Perimeter of Basic Geometric FiguresDistance and TimeLines and AnglesInterpretation of simple graphs and DataSquare and Square roots etc.
SSC MTS Syllabus for Reasoning Ability & Problem Solving
SSC MTS Numerical Aptitude Topics
Alpha-Numeric SeriesCoding and DecodingAnalogyFollowing DirectionsSimilarities and DifferencesJumblingProblem Solving and AnalysisNonverbal Reasoning based on diagrams, Age Calculations, Calendar and Clock, etc.
SSC MTS Syllabus for the English Language
SSC MTS English Language Topics
Spot the error file in the blanksSynonymsAntonymsSpelling/detecting mis-spelled wordsIdioms & PhrasesOne word substitutionImprovement of sentencesComprehension Passage
| | |
| --- | --- |
| Language | English |
| No. of Pages | 5 |
| PDF Size | 0.02 MB |
| Category | Education |
| Source/Credits | 2cyt36b7wnvt9.cloudfront.net |
Related PDFs
Production Planning And Control: Text And Readings PDF
REET Main Exam Syllabus 2023 Hindi PDF
SSC MTS Syllabus PDF Free Download