'Language Across the Curriculum B.ed Notes' PDF Quick download link is given at the bottom of this article. You can see the PDF demo, size of the PDF, page numbers, and direct download Free PDF of 'Language Across the Curriculum B.ed Notes' using the download button.
Language Across the Curriculum B.ed Notes PDF Free Download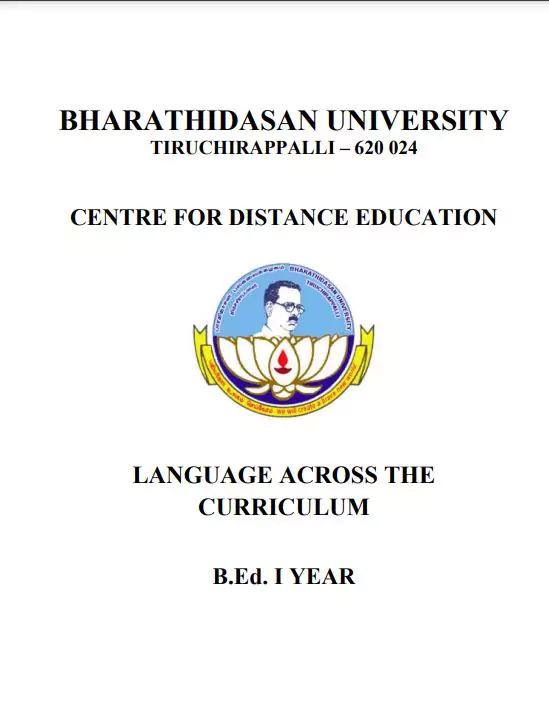 Language Across the Curriculum B.ed Notes
The major goals of LAC are very clear. First and foremost, it aims to support language development in each and every child.
This should happen through all domains of language use as well as in each learning activity in the school. It also aims at giving the children feedback about their progress (through appropriate assessment and evaluation).
Hence, there are different modes of human activities, which involve the use of language. All these modes of activity need to be mastered by the students, and specifically, eight modes of human activities involving language, have been distinguished. They are:
Listening: Comprehending oral input/intake
Speaking: Constructing meaningful utterances
Reading: Understanding written texts
Writing: Producing written texts/coherent discourse
Viewing: Attending to visual signs/information
Shaping: Using visual means of expression
Watching: Attending to physical movements
Moving: Using the whole body, the whole person for self-expression.
All these modes are to be taught and their use needs to be developed in the LAC
approach.
key points of the idea of 'Language across the Curriculum:
LAC is an approach to learning that focuses on improving language proficiency in all subjects in order to enhance students' learning and learning outcomes.
Language education does not only take place in specific subjects explicitly defined and reserved for it, such as mother tongue education, foreign language education, second language education, etc. Language learning and education also take place in each and every subject in the school, in each and every academic/mental activity, and across the whole curriculum – whether we are conscious of it or not.
LAC emphasizes that language development is the responsibility of all teachers across the school and in all subject areas.
Each subject area has both similar language aspects and patterns as in other subject areas plus its own specific language usage and style.
Each subject area also has its own specialized vocabulary and different writing genres, e.g., Science report writing is different from History report writing.
They are:
| | | |
| --- | --- | --- |
| Sr.No. | Activities | Explanation |
| 1. | Listening: | Comprehending oral input/intake |
| 2. | Speaking: | Constructing meaningful utterances |
| 3. | Reading: | Understanding written texts |
| 4. | Writing: | Producing written texts/coherent discourse |
| 5. | Viewing: | Attending to visual signs/information |
| 6. | Shaping: | Using visual means of expression |
| 7. | Watching: | Attending physical movements |
| 8. | Moving: | Using the whole body, the whole person for self-expression. |
| | |
| --- | --- |
| Language | English |
| No. of Pages | 98 |
| PDF Size | 1.4 MB |
| Category | Education |
| Source/Credits | www.bdu.ac.in |
Related PDFs
The Wonderful Wizard Of Oz PDF By L. Frank Baum
Mumbai Fire Brigade Merit List 2023 PDF In Hindi
Joint Option Form For Higher Pension PDF
List Of Backward Castes (OBC) In Jharkhand PDF
Language Across the Curriculum B.ed Notes PDF Free Download