'List of Festivals in India' PDF Quick download link is given at the bottom of this article. You can see the PDF demo, size of the PDF, page numbers, and direct download Free PDF of 'Important Festivals of India' using the download button.
Indian States and Their Festivals List PDF Free Download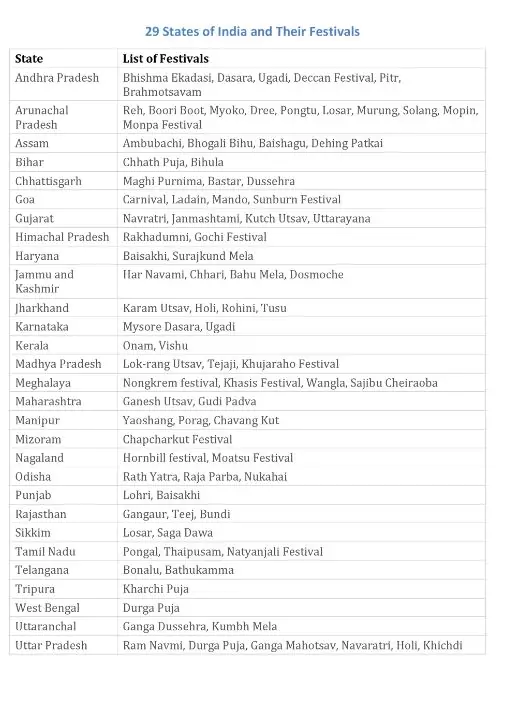 Indian States and Their Festivals List
India is a land of diversification. Every state has its unique art, culture, and tradition. The one thing that is common for all states is the celebration of individual cultures and traditions.
Indians celebrate their beliefs, culture, and tradition in the form of festivals. Every festival has its own specific characteristics. Festivals in India are celebrated season-wise and state-wise.
The main reason for the celebration of these festivals is to spread happiness and strengthen the bond between friends and family.
Many festivals are local and are held on different dates each year. A few are set according to the lunar calendar.
The relevance of festivals in India is to honor a deity at a particular temple, celebrate the agricultural cycle, or a religious story or event.
List of Indian Festivals
The list of the Indian festivals mentioned below is stated in the following order:
State-specific
Season-specific
State- Specific Festivals of India
The state-specific Indian festivals are listed below:
| | |
| --- | --- |
| State | List of Indian Festivals |
| Andhra Pradesh | Dasara, Ugadi, Deccan Festival, Brahmotsavam |
| Arunachal Pradesh | Reh, Boori Boot, Myoko, Dree, Pongtu, Losar, Murung, Solang, Mopin, Monpa festival |
| Assam | Ambubachi, Bhogali Bihu, Baishagu, Dehing Patkai |
| Bihar | Chhath Puja, Bihula |
| Chhattisgarh | Maghi Purnima, Bastar Dussehra |
| Goa | Sunburn festival, Ladain, Mando |
| Gujarat | Navratri, Janmashtami, Kutch Utsav, Uttarayana |
| Himachal Pradesh | Rakhadumni, Gochi Festival |
| Haryana | Baisakhi |
| Jammu and Kashmir | Har Navami, Chhari, Bahu Mela, Dosmoche, |
| Jharkhand | Karam Utsav, Holi, Rohini, Tusu |
| Karnataka | Mysore Dasara, Ugadi |
| Kerala | Onam, Vishu |
| Madhya Pradesh | Lok-rang Utsav, Tejaji, Khujaraho festival |
| Meghalaya | Nongkrem festival, Khasis festival, Wangla, Sajibu Cheiraoba |
| Maharashtra | Ganesh Utsav, Gudi Padva |
| Manipur | Yaoshang, Porag, Chavang Kut |
| Mizoram | Chapcharkut Festival |
| Nagaland | Hornbill festival, Moatsu Festival |
| Odisha | Rath Yatra, Raja Parba, Nukahai |
| Punjab | Lohri, Baisakhi |
| Rajasthan | Gangaur, Teej, Bundi |
| Sikkim | Losar, Saga Dawa |
| Tamil Nadu | Pongal, Thaipusam, Natyanjali Festival |
| Telangana | Bonalu, Bathukamma |
| Tripura | Kharchi Puja |
| West Bengal | Durga Puja |
| Uttaranchal | Ganga Dussehra |
| Uttar Pradesh | Ram Navmi, Ganga Mahotsav, Navaratri, Khichdi |
List of (Season-specific) Harvest Festivals in India
North India
| | |
| --- | --- |
| Festival | Month |
| Makar Sankranti | January |
| Baisakhi | April |
| Ladakh harvest festival | September |
| Lohri | January |
| Basant Panchami | January |
South India
| | |
| --- | --- |
| Festival | Month |
| Onam | August |
| Pongal | January |
| Ugadi | March |
| Vishu | April |
East & West India
| | |
| --- | --- |
| Festival | Month |
| Bhogali Bihu | January |
| Wangala | November |
| Ka Pomblang Nongkrem | November |
| Nuakhai | August |
| Gudi Padwa | March |
| Nabanna | November-December |
| | |
| --- | --- |
| Language | English |
| No. of Pages | 1 |
| PDF Size | 1 MB |
| Category | List |
| Source/Credits | – |
Related PDFs
Uttar Pradesh District List PDF In Hindi
List Of Holidays 2023 In Jammu And Kashmir PDF
List of Diseases and Their Causes PDF
29 States Of India And Their Festivals PDF
Indian States and Their Festivals List PDF Free Download