'NCERT Solutions for Class 11 English Chapter 6 The Browning Version' PDF Quick download link is given at the bottom of this article. You can see the PDF demo, size of the PDF, page numbers, and direct download Free PDF of 'Ncert Class 11 English Chapter 6 Exercise Solution' using the download button.
The Browning Version PDF Free Download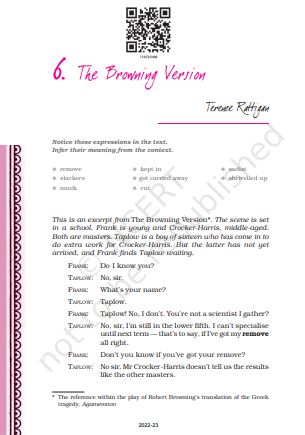 Chapter 6: The Browning Version
This is an excerpt from The Browning Version*. The scene is set
in a school. Frank is young and Crocker-Harris, middle-aged.
Both are masters. Taplow is a boy of sixteen who has come in to
do extra work for Crocker-Harris. But the latter has not yet
arrived, and Frank finds Taplow waiting.
FRANK: Do I know you?
TAPLOW: No, sir.
FRANK: What's your name?
TAPLOW: Taplow.
FRANK: Taplow! No, I don't. You're not a scientist I gather?
TAPLOW: No, sir, I'm still in the lower fifth. I can't specialise
until next term — that's to say, if I've got my remove
all right.
FRANK: Don't you know if you've got your remove?
TAPLOW: No sir, Mr Crocker-Harris doesn't tell us the results
like the other masters.
FRANK: Why not?
TAPLOW: Well, you know what he's like, sir.
FRANK: I believe there is a rule that form results should
only be announced by the headmaster on the last
day of term.
TAPLOW: Yes — but who else pays attention to it — except
Mr Crocker-Harris?
FRANK: I don't, I admit — but that's no criterion. So you've
got to wait until tomorrow to know your fate, have
you?
TAPLOW: Yes, sir.
FRANK: Supposing the answer is favourable — what then?
TAPLOW: Oh — science, sir, of course.
FRANK: (sadly) Yes. We get all the slackers.
TAPLOW: (protestingly) I'm extremely interested in science, sir.
FRANK: Are you? I'm not. Not, at least, in the science I
have to teach.
TAPLOW: Well, anyway, sir, it's a good deal more exciting
than this muck (indicating his book).
FRANK: What is this muck?
TAPLOW: Aeschylus, sir. The Agamemnon.
FRANK: And your considered view is that the Agamemnon
is muck?
TAPLOW: Well, no, sir. I don't think the play is muck —
exactly. I suppose, in a way, it's rather a good
plot, really, a wife murdering her husband and all
that. I only meant the way it's taught to us — just
a lot of Greek words strung together and fifty lines
if you get them wrong.
FRANK: You sound a little bitter, Taplow.
TAPLOW: I am rather, sir.
FRANK: Kept in, eh?
TAPLOW: No, sir. Extra work.
FRANK: Extra work — on the last day of school?
| | |
| --- | --- |
| Author | NCERT |
| Language | English |
| No. of Pages | 10 |
| PDF Size | 0.9 MB |
| Category | English |
| Source/Credits | ncert.nic.in |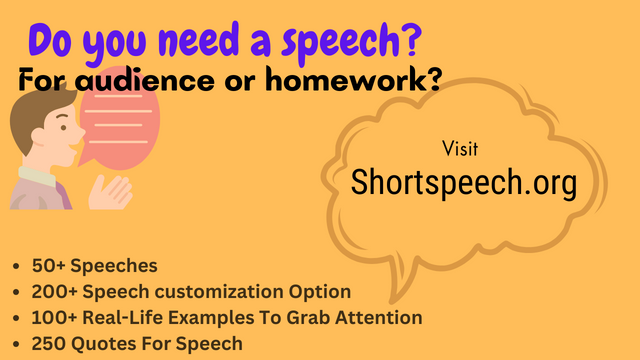 NCERT Solutions Class 11 English Chapter 6 The Browning Version
1. Comment on the attitude shown by Taplow towards Crocker-Harris.
Answer:
Crocker-Harris is Taplow's teacher. According to Taplow, he is a person who adheres to strict principles and is a hard worker, which is clear from the fact that he scheduled a class on the last day of school. He was fair to Taplow and gave him the grades he deserved.
He is a person who does not care to be liked by others. Despite being a strict person, he is Taplow's favourite because he is hardworking and gives his all to his students. Taplow stated to Frank about Crocker-Harris that he is not sadistic, but he is strict.
2. Does Frank seem to encourage Taplow's comments on CrockerHarris?
Answer:
Yes, Frank appears to support Taplow's comments about Crocker-Harris. When Taplow told Frank about Crocker-Harris, he said, "Crocker-Harris is a person who is shriveled up inside like a nut and he seems to hate people who like him." Frank cleverly persuaded Taplow to talk more about Crocker-Harris by asking a series of questions. During the conversation with Taplow, he also repeated the name "Crocker-Harris" so that Taplow would say something more about Crocker-Harris.
3. What do you gather about Crocker-Harris from the play?
Answer:
Crocker-Harris is a teacher who strictly adhered to his rules, regulations, and principles. He is someone who believes in making unbiased decisions about his students, and he is emotionless in front of them so that he can treat everyone equally. He is not a sadist, but he is serious about his job. When he schedules class on the last day of school, he is strict about his responsibilities.
NCERT Class 11 English Textbook Chapter 6 With Answer PDF Free Download