'Depo-Provera Perpetual Calendar' PDF Quick download link is given at the bottom of this article. You can see the PDF demo, size of the PDF, page numbers, and direct download Free PDF of 'Depo-Provera Perpetual Schedule Calendar' using the download button.
Progestin Injection Perpetual Calendar 15 Week Cycle PDF Free Download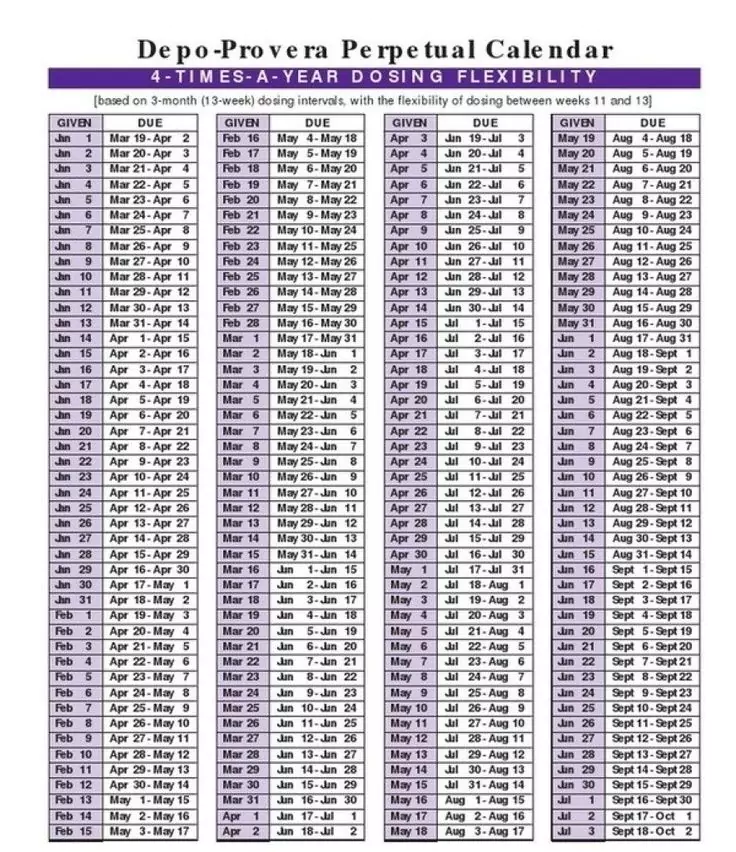 4 Times A Year Dosing Flexibility
based on 3-month (13-week) dosing intervals, with the flexibility of dosing between weeks 11 and 13
Contraindicated in patients with known or suspected pregnancy or with undiagnosed vaginal bleeding.
WARNING: Loss of bone mineral density
Women who use Depo-Provera Contraceptive Injection may lose significant bone mineral density.
Bone loss is greater with increasing duration of use and may not be completely reversible.
It is unknown if the use of Depo-Provera Contraceptive Injection during adolescence or early adulthood, a critical period of bone accretion, will reduce peak bone mass and increase the risk for osteoporotic fracture in later life.
Depo-Provera Contraceptive Injection should not be used as a long-term birth control method
(i.e., longer than 2 years) unless other birth control methods are considered inadequate.
INDICATIONS AND USAGE
Depo-Provera CI is indicated only for the prevention of pregnancy. The loss of bone mineral density (BMD) in women of all ages and the impact on peak bone mass in adolescents should be considered, along with the decrease in BMD that occurs during pregnancy and/or lactation, in the risk/benefit assessment for women who use Depo-Provera CI long-term [see Warnings and Precautions (5.1)].
2 DOSAGE AND ADMINISTRATION
2.1 Prevention of Pregnancy
Both the 1 mL vial and the 1 mL prefilled syringe of Depo-Provera CI should be vigorously shaken just before use to ensure that the dose being administered represents a uniform suspension.
The recommended dose is 150 mg of Depo-Provera CI every 3 months (13 weeks) administered by deep IM injection in the gluteal or deltoid muscle.
Depo-Provera CI should not be used as a long-term birth control method (i.e. longer than 2 years) unless other birth control methods are considered inadequate.
Dosage does not need to be adjusted for body weight [See Clinical Studies (14.1)].
To ensure the patient is not pregnant at the time of the first injection, the first injection should be given ONLY during the first 5 days of a normal menstrual period; ONLY within the first 5-days postpartum if not
breast-feeding; and if exclusively breast-feeding, ONLY at the sixth postpartum week.
If the time interval between injections is greater than 13 weeks, the physician should determine that the patient is not pregnant before administering the drug. The efficacy of Depo-Provera CI depends on adherence to the dosage
schedule of administration.
2.2 Switching from other Methods of Contraception
When switching from other contraceptive methods, Depo-Provera CI should be given in a manner that
ensures continuous contraceptive coverage based upon the mechanism of action of both methods,
(e.g., patients switching from oral contraceptives should have their first injection of Depo-Provera CI on the
day after the last active tablet or at the latest, on the day following the final inactive tablet).
3 DOSAGE FORMS AND STRENGTHS
Sterile Aqueous suspension: 150mg/ml
Prefilled syringes are available packaged with 22-gauge x 1 1/2 inch BD SafetyGlideTM Needles.
| | |
| --- | --- |
| Author | – |
| Language | English |
| No. of Pages | 2 |
| PDF Size | 1 MB |
| Category | Calendar |
| Source/Credits | patientpop.com |
Also Download: The Complete Guide For Depo Provera Contraceptive Injection. Click Here
Depo-Provera Perpetual Contraceptive Injection PDF Free Download