'Blue Star AC Error Code List' PDF Quick download link is given at the bottom of this article. You can see the PDF demo, size of the PDF, page numbers, and direct download Free PDF of 'Blue Star Air Conditioner Manual and Error Codes' using the download button.
Blue Star Inverter AC Error Code List PDF Free Download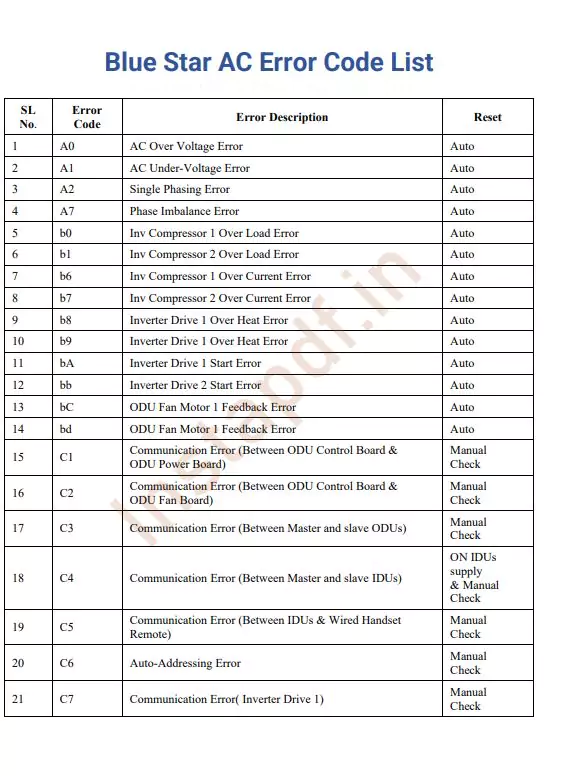 Blue Star Inverter AC Error Code List
Bluestar offers an extensive range of air conditioners, including window ACs, non-inverter split ACs, inverter split ACs, smart ACs, etc.
Generally, Bluestar ACs perform well. Besides, Bluestar offers warranties on the compressor and PCB for extended periods. Furthermore, all their products come with a one-year product warranty.
However, the Bluestar AC is a machine, and it can fail. Under such circumstances, we advise users to lodge an official complaint and summon the authorized Bluestar technician.
Generally, AC mechanics can handle almost all AC operational problems. However, it is still advisable to call the authorized Bluestar AC technician to address issues with Bluestar ACs.
These authorized technicians are trained well to service ACs. They know each problem and its solution.
Bluestar ACs come equipped with a self-diagnosis system that can diagnose almost all problems associated with air conditioners. The system indicates the faults through error codes on the IDU, ODU, and the remote controller unit.
These error codes vary from one AC series to the other. However, the primary error codes remain the same. We shall now discuss the various error codes on Bluestar ACs, their causes, and fixes.
SL No.
Error Code
Error Description
Reset
1
A0
AC Over Voltage Error
Auto
2
A1
AC Under-Voltage Error
Auto
3
A2
Single Phasing Error
Auto
4
A7
Phase Imbalance Error
Auto
5
b0
Inv Compressor 1 Over Load Error
Auto
6
b1
Inv Compressor 2 Over Load Error
Auto
7
b6
Inv Compressor 1 Over Current Error
Auto
8
b7
Inv Compressor 2 Over Current Error
Auto
9
b8
Inverter Drive 1 Over Heat Error
Auto
10
b9
Inverter Drive 1 Over Heat Error
Auto
11
bA
Inverter Drive 1 Start Error
Auto
12
bb
Inverter Drive 2 Start Error
Auto
13
bC
ODU Fan Motor 1 Feedback Error
Auto
14
bd
ODU Fan Motor 1 Feedback Error
Auto
15
C1
Communication Error (Between ODU Control Board &
ODU Power Board)
Manual
Check
16
C2
Communication Error (Between ODU Control Board &
ODU Fan Board)
Manual
Check
17
C3
Communication Error (Between Master and slave ODUs)
Manual
Check
18
C4
Communication Error (Between Master and slave IDUs)
ON IDUs supply
& Manual Check
19
C5
Communication Error (Between IDUs & Wired Handset Remote)
Manual
Check
20
C6
Auto-Addressing Error
Manual
Check
21
C7
Communication Error( Inverter Drive 1)
Manual
Check
22
C8
Communication Error( Inverter Drive 2)
Manual
Check
23
C9
Communication Error on some other IDU
(Displayed on IDUs without communication error)
Manual
Check
24
d0
Inverter Drive 1 DC Over Voltage error
Auto
25
d1
Inverter Drive 2 DC Oveer Voltage error
Auto
26
d2
Inverter Drive 1 DC Under Voltage error
Auto
27
d3
Inverter Drive 2 DC Under Voltage error
Auto
28
d8
Inverter Drive 1 Over Heat Error
Manual
29
d9
Inverter Drive 2 Over Heat Error
Manual
30
dA
Inverter Drive 1 Start error
Manual
31
db
Inverter Drive 2 Start error
Manual
32
dC
Inv Compressor 1 Over Current Error
Manual
33
dd
Inv Compressor 2 Over Current Error
Manual
34
dE
Inverter Drive Mismatch Error
Manual
35
E1
HP Switch Trip error
Auto
36
E2
HP Switch Trip for 3rd time in One Hour
Manual
37
E3
L P Error
Auto
38
E4
LP Error for 3rd time
Manual
39
E5
Inv Compressor 1 High DLT (Discharge Line Temperature)
Auto
40
E6
Inv Compressor 2 High DLT (Discharge Line Temperature)
Auto
41
E8
Inv Compressor 1 High DLT (Discharge Line Temperature) for 4th time
Manual
42
E9
Inv Compressor 2 High DLT (Discharge Line Temperature) for 4th time
Manual
43
Eb
ODU Fan Motor 1 feedback Error
Manual
44
EE
ODU Fan Motor 2 feedback Error
Manual
45
EC
Inv Compressor 1 Over Load Error
Manual
46
Ed
Inv Compressor 2 Over Load Error
Manual
47
F1
Ambient Temp. Sensor Failure
Manual Check
48
F2
DLT (Discharge Line Temperature) Inv. Compressor 1 Sensor Failure
Manual Check
49
F3
DLT (Discharge Line Temperature) Inv. Compressor 2 Sensor Failure
Manual Check
50
F5
ODU Liq. Temp. (Hex1) Sensor Failure
Manual Check
51
F6
ODU Gas Temp. (Hex1) Sensor Failure
Manual Check
52
F7
ODU Liq. Temp. (Hex1) Sensor Failure
Manual Check
53
F8
ODU Gas Temp. (Hex1) Sensor Failure
Manual Check
54
F9
HP Sensor Failure
Manual Check
55
FA
LP Sensor Failure
Manual Check
56
Fb
Fire Alarm from ODU
Manual Check
57
Fc
Fire Alarm from IDU
Manual Check
58
U3
IDU Room Temp Sensor Failure (Displayed on IDU)
Manual Check
59
U4
IDU Liquid Temp Sensor Failure (Displayed on IDU)
Manual Check
60
U5
IDU Gas Temp Sensor Failure (Display on IDU)
Manual Check
61
U6
IDU Supply Temp Sensor Failure (Display on IDU)
Manual Check
62
U7
IDU Float Switch Error (Display on IDU)
Manual Check
63
U8
IDU Fan Motor Error (Display on IDU)
Manual Check
64
U9
Mode conflict Error (Display on IDU)
Manual Check
| | |
| --- | --- |
| Author | – |
| Language | English |
| No. of Pages | 3 |
| PDF Size | 1 MB |
| Category | List |
| Source/Credits | – |
Related PDFs
XXN Abbreviation List 2017 PDF
Blue Star Inverter AC Error Code List PDF Free Download