'Teachers Day Speech' PDF Quick download link is given at the bottom of this article. You can see the PDF demo, size of the PDF, page numbers, and direct download Free PDF of 'Teachers Day Speech' using the download button.
Teachers Day Script English PDF Free Download
Teachers Day Speech
"Instead of celebrating my birthday, it would be my proud privilege if September 5th is observed as Teachers' Day." – said Dr. Sarvepalli Radhakrishnan. It is quite clear that the doctor understood the worth of a teacher. I'm here to do the same, to estimate the worth of a teacher in our lives.
Now I'm not very good at Math but I'm pretty sure this one's not a miscalculation. The first thing anybody thinks of when they hear the word 'Teacher', is education comes to their mind. Now the only problem with this is how we perceive education.
Is it just about knowing the valency of silicon or remembering what temperature suits the growth of evergreen forests? Or is it about improving ourselves holistically and understanding that its better to know how to learn than to know? And this is where you come in, the teachers, the educationalists. And not all the teachers in the world, but you the teachers here at Campion. You've made us learn three very important things besides Newton's Laws
• To focus more on improving ourselves so we don't have the energy to criticize
others
• Never letting compliments get to head and criticism get to our hearts
• We are students for life, and learning never stops
The most amazing part of you as a teacher is the fact that instead of using your knowledge to show how powerful you are, you're empowering us too see how powerful we are.
In-fact, the greatest thing a teacher ever told me was "If you find yourself to be the smartest person in the room, change rooms, you're in the wrong one because you want to be around those that lift up your mindset" and hence I learned humility and the appreciation of the brilliance of another's mind.
And I could go on about how you as a teacher have actually molded our minds, but the point I'm trying to make is, a teacher's role is irreplaceable. This leads me to the conclusion that a teacher's value is not a number but an absolute measure of their student's success.
Many of us barely understand teaching, which is a humble but effective art. We
consider it simple, for we aren't exposed to its underlying significance and complexity. Teachers might look ordinary but they are, in fact, extraordinary because they have the power to change the world. They have the skill to ignite minds.
Their vision is unparalleled, thought is unique and they stimulate our curiosity. They are
distinguished individuals who develop minds and nations. Teachers understand their role so well that they defy convention, go beyond limits and make learning truly wonderful.
Yes, learning will never stop, and we are never done being educated, but it's this quality of education that we have only two more months to cherish. Thank you teachers for lifting us up, creating better versions of ourselves and most of all, helping us grow.
Teacher Day Speech: Introduction
Dear teachers, a warm welcome to all of you here. Today I am here to give a speech on Teacher's Day. I would like to begin my speech by thanking all my beloved teachers who have always guided us and given us all their teachings, moral values ​​and discipline.
As you all know that we celebrate Teachers' day in the beloved memory of Dr Sarvepalli Radhakrishnan on his birthday who was the first Vice President of India and the second president of India. He was also a great scholar, an ideal teacher and a recipient of Bharat Ratna. Born September 5, 1988.
After becoming President of India, some of his friends and students approached Dr Radhakrishnan to celebrate his birthday. He replied that it was his privilege to celebrate 5th September as Teachers' Day across India instead of celebrating his birthday on that particular day. It is celebrated to honor our beloved teachers who have nurtured us and prepared us for a brighter future.
Teachers are our pillars who play an important role in guiding us through student life. They do their best to teach us valuable life lessons and are our role models to look up to like a potter shapes a pot to make the best as teachers shape the students' life to create their future.
I would like to thank my parents to be my first mentor and teachers for guiding me throughout my journey. The teacher is not the one who is teaching us only in schools or coaching in fact teacher can be any person who is guiding us giving any moral lesson that can be beneficial for our future.
It is said that the future of the country lies in children's hands and the support system for children are teachers only who teach them the true meaning of life. Teachers' Day is therefore celebrated to honour needs and recognize their special role in our lives. It is a day of excitement, activities and special performances organized by students, especially teachers.
Teacher's Day is celebrated not only in India but around the world to celebrate the power of education. Different countries celebrate this day on different days. But UNESCO officially declared October 5, 1994, as World Teachers Day.
Conclusion
Last but not least, I would like to conclude my speech by thanking you for giving me the opportunity to speak about my beloved teacher on Teacher's Day. I am proud to call myself a student at this institution that has helped me grow into a better person and has given me the passion to learn new things every day.
Teachers Day Speech
Good morning to the Principal, respected teachers, and my dear colleagues. We are here today to celebrate a most honourable occasion of Teachers' day. It is a good occasion for all the students all over India. It is observed every year to pay respect to the teachers from their obedient students. So, dear friends, join this celebration to respect our teachers heartily.
They are called the backbone of our society because they contribute to building up our characters, shaping our future, and helping us be ideal citizens of the country. Teacher's day is celebrated every year across India on the 5th of September to pay tribute to the teachers for their precious contributions to our study, society, and the country. There is an excellent reason behind the celebration of teacher's day on the 5th of September.
The 5th of September is the birthday of Dr Sarvapalli Radhakrishnan. He was a great person and highly devoted to education. He was well known as a scholar, diplomat, Vice President of India, and, most importantly, Teacher. After his selection as the Indian President in 1962, he was asked and requested by the students to get permission to celebrate his birthday on the 5th of September.
However, he replied that, instead of celebrating the 5th of September as my birthday, it would be better if it was dedicated to the whole teaching profession. And 5th of September should be celebrated as a teachers' day all over India to honour the teaching profession.
For all students of India, Teachers' Day is like an occasion and opportunity to pay tribute and gratitude to their teachers for their continuous, selfless, and precious efforts in shaping the future. They are the reason to enrich all the quality education system in the country and process it continuously without getting tired.
Our teachers never consider us less than their children and teach us from their hearts. As kids, we need inspiration and motivation, which we surely get from our teachers. They prepare us to tackle any bad situation in life through knowledge and patience. Dear teachers, we are grateful to all of you and will be forever.
| | |
| --- | --- |
| Author | – |
| Language | English |
| No. of Pages | 2 |
| PDF Size | 0.1 MB |
| Category | Education |
| Source/Credits | campionschool.in |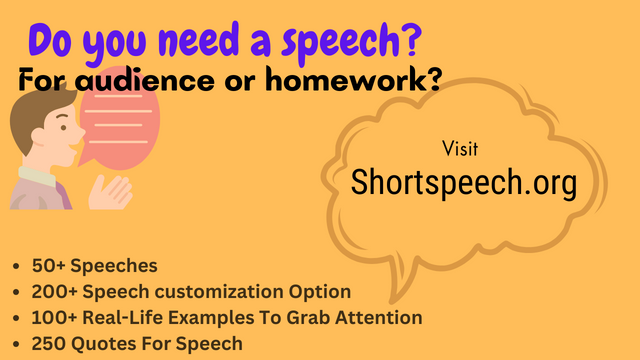 Teachers Day Speech English Book PDF Free Download