My Confession By Samuel Chamberlain Book PDF Free Download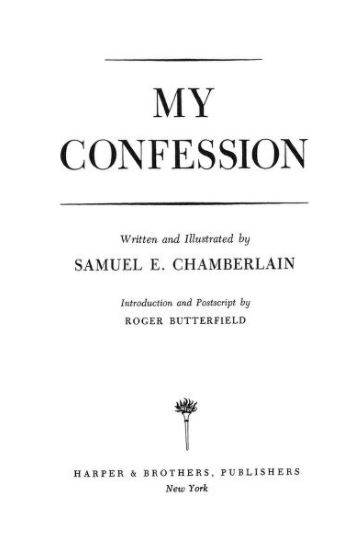 Excerpt From The Book
The day was cold and drear in December 1844, when I bid goodbye to my friends at the Worcester Depot, in the good city of Boston, and embarked on the train for Norwich en route for the great West.
I was in my sixteenth year, full of life, yet felt sad and downhearted enough at leaving home for years if not forever.
What a change the last few months had made in my prospect for life From a promising member of the Baptist Church in Bowdoin Square, and a prospective.
Theological Student at the Northam ton Institute, I was now, to quote the language of the Rev. R. W. Cushman, of the above Church, "worse than the Devil
What had produced this change? Who was to blame? Well, I confess I was to blame, I was the cause.
I had been strictly brought up under religious influences, my reading confined to the Bible, and the usual books of a Sabbath School Library, and at fourteen.
I considered it my duty to become a member of the Church. At fifteen I unfortunately for my religious career joined the Junior Class at Sheridan's Gymnasium, on Washington Street.
And here under the tender instructions of "Belcher" Kay and "Prof." Joe Long in sparring and "Monsieur" Huri in the stick and small sword, I soon developed into a muscular Christian.
And alas, such is the pernicious influence of the ungodly that one night in a set-to with the Professor, when I succeeded in getting one in on his "nob,"
I felt more elated than if I had just been ordained over a flourishing Church. Then I got hold of Scott's immortal works. What a glorious new world opened before me, how I devoured.
| | |
| --- | --- |
| Author | Samuel Chamberlain |
| Language | English |
| Pages | 314 |
| PDF Size | 56.3 MB |
| Category | Biography |
My Confession By Samuel Chamberlain Book PDF Free Download