'CIBIL Report' PDF Quick download link is given at the bottom of this article. You can see the PDF demo, size of the PDF, page numbers, and direct download Free PDF of 'Credit Information Bureau (India) Limited' using the download button.
CIBIL Report PDF Free Download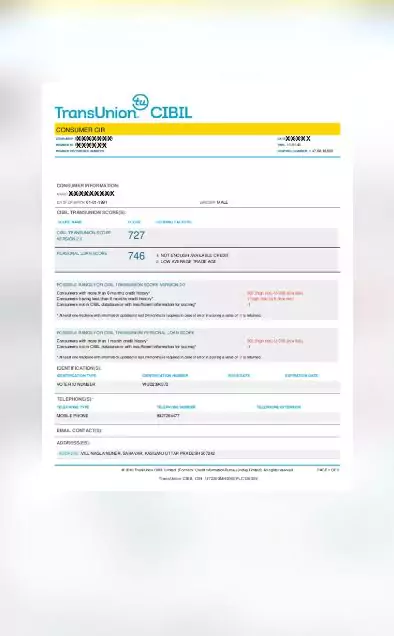 CIBIL Report
A CIBIL report is computed by TransUnion CIBIL, which is the first credit bureau in the country. The information about all your loans (home, auto, and personal), credit cards, bill payments, enquiries, and CIBIL scores are present in your CIBIL report.
A CIBIL report is prepared by the TransUnion CIBIL credit bureau. It is a detailed summary of your credit history. It records the type of loans (home, auto, and personal) and credit cards that have been availed by you over a period of time.
A CIBIL report is also known as a credit information report. It helps lenders take sound decisions about lending credit to potential borrowers. 
CIBIL collects your credit data from lenders such as banks, credit card companies, non-banking finance companies (NBFC), and housing finance companies.
With the help of your report, lenders can measure your creditworthiness and decide if you have the ability to repay the borrowed amount.
Components of a CIBIL Report:
A CIBIL report contains six main sections. Let's learn about them in detail.
CIBIL Score: A CIBIL score is a 3-digit number that falls in the range of 300-900. It is calculated by the CIBIL credit bureau after taking into consideration factors such as credit history and repayment behaviour.
A CIBIL score in the range of 750-900 is considered a good score. A higher CIBIL score suggests you have high creditworthiness. It increases your chances of getting a good deal on loan interest rates as well as credit cards.
Personal Information: As the name suggests, this section contains your personal information such as name, date of birth, and unique identification numbers like PAN and Aadhaar. You need to make sure that the personal details are accurate in the report. These details are reported to the bureau by the bank.
Contact Information: This section will have your mobile number, telephone number, residential address, and email address.
Employment Information: This section of the CIBIL report contains your employment information. It will specify the type of your occupation such as salaried, professional, or business.
It will also mention your monthly or annual income as reported by banks.
Account Information: This is the most important section of your CIBIL report as it contains records of your credit accounts.
It will mention the loans and credit cards you have taken. The report will also mention the lenders' names and loan amounts.
The report will record your defaults, late payments, amount overdue, current balance, date opened, and date of last payment.
It contains a month-on-month record of your payments toward your loan EMIs as well as credit card bills for up to the last 3 years.
You should ensure that the loan details reflected in the account are accurate. Discrepancies in your credit report can reduce your chances of getting loan approval.
Enquiry Information: This section records all the enquiries made by lenders in the past.
An enquiry takes place when a lender pulls out your CIBIL report from the bureau to check your creditworthiness.
The date and purpose of the enquiry are also mentioned in the report. The enquiry amount is also recorded in the report.
It is advised to avoid making multiple credit enquiries in a short span of time as it may trigger hard enquiries from lenders, making you appear credit-hungry.
Importance of a CIBIL report:
When you apply for a loan or a credit card, lenders will check your credit report to know your credit status. It will help them know if you have been a responsible borrower in the past.
A CIBIL report that displays prompt payment behaviour, a low number of credit inquiries, and good credit history will increase your chances of getting approvals for future loans.
Check your CIBIL Report Without Money:
As per RBI's mandate in 2017, all the credit bureaus in the country are required to offer one free detailed credit report to consumers with credit history every calendar year.
You can visit CIBIL's official website and get your CIBIL report. You can check your Experian credit report by visiting BankBazaar.
| | |
| --- | --- |
| Language | English |
| No. of Pages | 3 |
| PDF Size | 1.4 MB |
| Category | General |
| Source/Credits | www.cibil.com |
CIBIL Report PDF Free Download