'HIPAA Medical Records Release' PDF Quick download link is given at the bottom of this article. You can see the PDF demo, size of the PDF, page numbers, and direct download Free PDF of the 'Medical Records Release Form' using the download button.
HIPAAAuthorization To Release Health Information PDF Free Download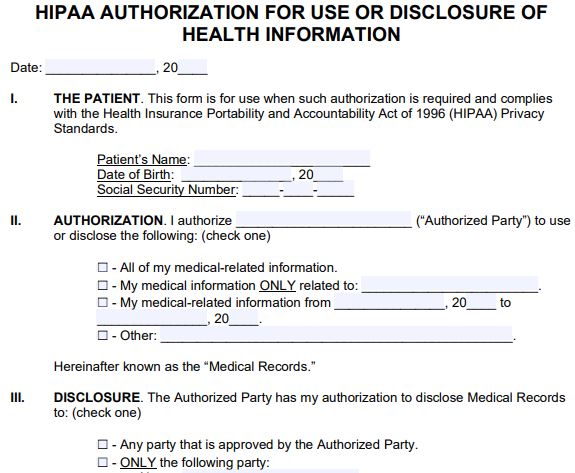 Medical Records Release Authorization
The process to get HIPAA-compliant medical records
It's important to note that you, as the patient the medical records concern, have the right to access your medical records.
Any request you make to access or transfer your medical records must be fulfilled within 30 days.
If for some reason, the request cannot be handled within that time, a letter must be given explaining why the facility is unable to provide the requested records.
With that being said, there is a process that you must go through before you can get your medical records from a clinic, hospital, etc.
Put in a request for the records
The organization that's handling your medical records may ask that you formally request your records (instead of asking for them verbally).
This is so that they have documentation of the request so they can be in compliance with the applicable laws and in case legal action is taken against them for any reason.
You can quickly fill out the document by using the HIPAA medical release authorization form creator on this page (click create the document) or download our free template.
We recommend the first option because it'll reduce the potential to make errors when filling the template.
The sections that need to be completed are:
Releasor & Recipient – Who owns the records and who will get the records
History length – What time frame do you want the release records to cover
What type of record – Do you want all the records within that time period to be released or only the ones related to a specific condition or incident?
Expiry date – These are for legal purposes and it's best practice to include them. If you're not sure then set it for 6 months to a year.
Submit for processing
Each medical facility has its own rules and regulations related to how they want you to send the release document.
Simply ask them what their process is.
You can also request how they should forward your records to you.
Of course, they will only have certain options so it's important to figure out what they are beforehand. For example, can it be emailed as a
pdf, delivered by hand, placed on a flash drive, etc? There may be a fee for processing the request and searching for records but the act of submitting a request is free.
Getting your medical records
Modern healthcare facilities have adapted to the times and no longer need the entire thirty days to transfer records.
On average, it takes a few business days.
If, after seven business days, you've not gotten the records then you can call to find out if there's any problem.
If the facility takes 30 days and still hasn't delivered the requested records then, as mentioned previously, they have to notify you in writing about why there is a delay.
They can then request an extension of 30 days.
They can only request a single extension period according to the law.
The Process to get HIPPA medical records for another person
There are cases where someone will need to get medical records on behalf of another person and the law recognizes this.
There are three ways to go about this process.
Is There a Fee ($) to Release Medical Records?
Yes, but this depends on the medical office and the state it is located. Generally speaking, smaller offices do not require a fee for copying and transferring medical records. If a medical office does charge a fee, it cannot be more than the statutory limit (see table below):
State-by-State Maximum Limits ($)
State
Maximum Fees ($)
Laws
Alabama
Search Fee: $5Pages 1-25: $1/pagePages 26+: $0.50Other Documents: Actual cost of reproduction.
§ 12-21-6.1
Alaska
N/A
No Statute
Arizona
Reasonable Fee
§ 12-2295
Arkansas
Search Fee: $15Pages 1-25: $0.50/page page 26+: $0.25/page
§ 16-46-106
California
Search Fee: $4Evidence Fee: $15Pages 1+: $0.10/page microfilm: $0.20/page
EVID Code § 1158(2) & § 1563(6)
Colorado
Search Fee: $18.53 flat fee (First ten pages)Pages 11 – 40: $0.85 per page pages 41+: $0.57 per page microfilm: $1.50 per page
6CCR 1011-1 Chapter 2 Part 5.2.3.4
Connecticut
Pages 1+: $0.65 per page
§ 19a-490b
Delaware
Pages 1 – 10: $2.00 per page 11 – 20: $1.00 per page 21 – 60: $0.90 per page pages 61+: $0.50 per page microfilm: Actual cost of reproduction.
Title 24: Chapter 1700, Section 29
Florida
Search Fee: $1.00 (Per year per request)Pages 1+: $1.00 per page microfilm: $2.00 per page
§ 395.3025 (1)
Georgia
Search Fee: $25.88Pages 1 – 20: $0.97 per page 21 – 100: $ 0.83 per page pages 101+: $0.66 per page certification Fee: $9.70
§ 31-33-3
Hawaii
Reasonable Fee
§ 622-57(g)
Idaho
N/A
No Statute
Illinois
Search Fee: $29.09Pages 1 – 25: $1.09 per pagePages 26 – 50: $0.73 per pagePages 50+: $0.36 per page microfilm: $1.82 per page
735 ILCS 5/8-2005
Indiana
Search Fee: $20.00 (includes first 10 pages)Pages 11 – 50: $0.50 per page pages 51+: $0.25 per page affidavit/Certification: $20.00
760 IAC 1-71-3(a)
Iowa
Reasonable Fee
§ 622.10
Kansas
Reasonable Fee
REPEALED
Kentucky
First (1st) Copy: FreeSecond (2nd) Copy: $1.00 per page
§ 422.317
Louisiana
Search Fee: $25.00Pages 1 – 25: $1.00 per pagePages 26 – 350: $0.50 per pagePages 351+: $0.25 per pageMax Fee for Electronic Records: $100.00 per request
§ 1165.1
Maine
Search Fee: $5.00 (Includes the first page)Pages 2+: $0.45 per page max Fee: $250.00Max Fee for Electronic Records: $150.00 per request
§ 1711-A
Maryland
Search Fee: $22.88Pages 1+: $0.83 per page electronic Records Search Fee: $22.88Electronic Records Pages 1+: $0.62 per page max Fee for Electronic Records: $81.63 per request
§ 4-304
Massachusetts
Search Fee: $25.01Pages 1 – 100: $0.84 per page pages 100+: $0.43 per page Social Security: No charge for a request to support a claim under the social security act.
Title XVI, Ch III, Section 70
Michigan
Search Fee: $25.38Pages 1 – 20: $1.27 per pagePages 21 – 50: $0.63 per pagePages 51+: $0.25 per page
Public Act 47 of 2004. MCL 333.26269
Minnesota
Search Fee: $19.19Pages 1+: $1.44 per page-rays: $10 Search Fee plus the actual cost of reproduction.
§ 144.292
Mississippi
Search Fee: $20.00 Flat Fee (first 20 pages)Pages 21 – 100: $1.00 per page pages 101+: $0.50 per page search/Storage Fee: $15.00 (Only charged if records are retrieved from off-site location)Certification Fee: $25.00
§ 11-1-52
Missouri
Search Fee: $26.06Pages 1+: $0.60 per page storage Fee: $24.40 (Additional fee if records are retrieved off-site)Max Fee for Electronic Records: $114.17
§ 191.227.5
Montana
Search Fee: $15.00Pages 1+: $0.50 per page
§ 50-16-540
Nebraska
Search Fee: $20.00Pages: 1+: $0.50 per page-rays: Actual cost of reproduction.
§ 71-8404
Nevada
Pages 1+: $0.60 per page-rays: Reasonable Fee
§ 629.061
New Hampshire
Whichever is greater: $15 for the first 30 pages or $0.50 per page
X-rays: Reasonable Fee
§ 332-I
New Jersey
Search Fee: $10.00Pages 1 – 100: $1.00 per pagePages 101+: $0.25 per pageMax Fee: $200.00
§ 8:43G-15.3, § 13:35-6.5
New Mexico
Pages 1 – 15: $30.00 flat feet ages 16+: $0.25 per page-rays: Actual cost of reproduction.
§ 16.10.17.8
New York
Pages 1+: $0.75 per page-rays: Actual cost of reproduction.
Title 2: Section 17
North Carolina
Pages 1 – 25: $0.75 per pagePages 26 – 100: $0.50 per pagePages 100+: $0.25 per pageMinimum Fee: $10.00
§ 90-411
North Dakota
Search Fee: $20.00 (Includes pages 1-25)Pages 26+: $0.75 per page electronic Records Search Fee: $30.00 (Includes pages 1-25)Electronic Records Pages 26+: $0.25 per page
§ 23-12-14
Ohio
Search Fee: $20.42Pages 1 – 10: $1.34 per pagePages 11 – 50: $0.69 per pagePages 51+: $0.27 per pageX-rays: Search Fee plus $2.27 per page
§ 3701.742
Oklahoma
Search Fee: $10.00Pages 1+: $0.30 per page-rays: $5.00 per page max Fee: $200.00
§ 76-19
Oregon
Search Fee: $30.00 (Includes pages 1-10)Pages 11-50: $0.50 per page pages 51+: $0.25 per page-rays: Actual cost of reproduction.
OAR 847-012-0000
Pennsylvania
Search Fee: $23.45Pages 1 – 20: $1.58 per pagePages 21 – 60: $1.17 per pagePages 61+: $0.40 per page microfilm: $23.45 + $2.33 per page
48 Pa.B. 7712
Rhode Island
Pages 1 – 10: $2.50 per pagePages 10 – 50: $0.75 per pagePages 51+: $0.50 per page
R5-37- MD/DO Section 11.2
South Carolina
Search Fee: $26.67Pages 1 – 30: $0.69 per pagePages 31+: $0.53 per pageMax Fee for Electronic Records: $160.05
§ 44-115-80
South Dakota
No Current Fee Schedule
§ 36-2-16
Tennessee
Search Fee: $18.00 (Includes pages 1 – 5)Pages 6 – 50: $0.85 per pagePages 51 – 250: $0.60 per pagePages 251+: $0.35 per page
§ 63-2-102
Texas
Search Fee: $48.77 (Includes pages 1 – 10)Pages 11 – 60: $1.64 per pagePages 61 – 400: $0.80 per pagePages 401+: $0.44 per page
§241.154
Utah
Search Fee: $21.16Pages 1 – 40: $0.53 per pagePages 41+: $0.32 per page
78B-5-618
Vermont
Whichever is greater: $5 or $0.50 per page Social Security: No charge for a request to support a claim under the social security act.
§ 9419
Virginia
Search Fee: $20.00Pages 1 – 50: $0.50 per page pages 51+: $0.25 per page max Fee: $150.00Electronic Records Search Fee: $20.00Electronic Records Pages 1 – 50: $0.37 per page electronic Records Pages 51+: $0.18 per page electronic Records Max Fee: $150.00Microfilm Search Fee: $20.00Microfilm Pages 1+: $1.00 per page
§ 8.01-413
Washington
Search Fee: $26.00Pages 1 – 30: $1.17 per page page 31+: $0.88 per page
WAC 246-08-400
West Virginia
Search Fee : $20.00Pages 1+ : $0.40 per pagePages 1+ Electronic Records: $0.20 per pageMax Fee Electronic Records: $150
§ 16-29-2
Wisconsin
Search Fee: $22.61Pages 1 – 25: $1.14 per page 26 – 50: $0.86 per page 51 – 100: $0.56 per page pages 101+ $0.34 per pageMicrofilm and other media: $22.19 + $1.68 per page-rays: $22.19 + $11.28 per series certification (if not patient or their representative): $9.04 per request
| | |
| --- | --- |
| Author | – |
| Language | English |
| No. of Pages | 3 |
| PDF Size | 1 MB |
| Category | Form |
| Source/Credits | eforms.com |
Authorization to Release Health Information HIPAA PDF Free Download