'CUET PG Courses List 2023' PDF Quick download link is given at the bottom of this article. You can see the PDF demo, size of the PDF, page numbers, and direct download Free PDF of 'CUET PG 2023' using the download button.
CUET PG Courses List PDF Free Download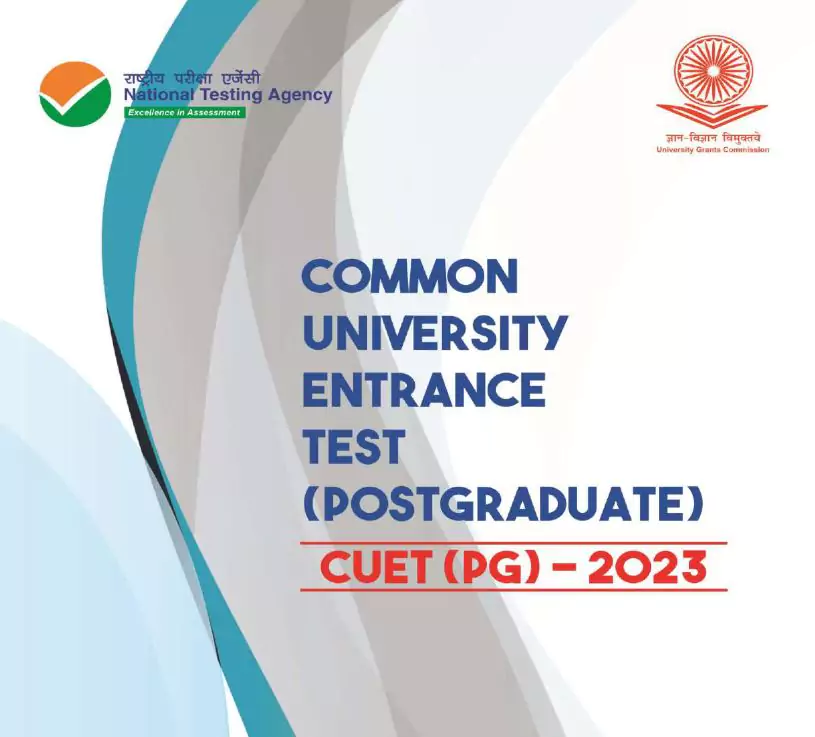 CUET PG Courses List
CUET PG programs 2023 are offered in various fields like Computer Science, Architecture, Physics, Chemistry, Law, etc. The CUET PG exam pattern, syllabus, and eligibility requirement change for every CUET PG program in all participating universities. Hence, you should check CUET PG Courses 2023 list, its respective exam pattern, and eligibility before filling out the application form.
Both CUET UG and PG participating universities accept CUET scores for admission into undergraduate and postgraduate programs. As per UGC Chairmen Mamidala Jagadesh Kumar's Twitter handle, the CUET PG exam will be going held on the 1st/ 2nd week of June 2023 by NTA
As always, the National Testing Agency organizes the CUET Postgraduate Entrance Test for 66 central and participating universities.
A list of CUET PG colleges and the courses offered are listed in the article; referring to this, you can check and opt for a wide variety of CUET PG courses 2023 as per your requirement.
Check the CUET PG courses list:
| | |
| --- | --- |
| University | PG Courses |
| Babasaheb Bhimrao Ambedkar University | M.Sc Geology M.Sc. (Ag.) Horticulture M.Sc. in Food Science and Technology M.Sc. in Forensic Science and Criminology M.Sc. in Biotechnology M.Sc. in Applied Chemistry M.Sc. (Environmental Science) M.Sc. (Food and Nutrition) M.Sc. (Food Science and Technology) M.Sc. (Human Development and Family Studies) M.Sc. (Forensic Science & Criminology) M.Sc. (Brain & Cognition Sciences) M.Sc. (Biotechnology) M.Sc. (Life Sciences) M.Sc. (Zoology) M.Sc. (Food Microbiology and Toxicology) M.Sc. (Industrial Microbiology) M.Sc. (Environmental Microbiology) M.Sc. (Chemistry) M.Sc. (Mathematics) M.Sc. (Nuclear Medicine Technology) M.Sc. (Physics) M.Sc. (Statistics) M.Tech. (Computer Science) M.Tech. (Software Engineering) M.A (Economics) M.A. (History) M.A. (Political Science) M.A. (Public Administration) M.A. (Sociology) M.A. (English) M.A. (Education) M.A. (Hindi) One Year LL.M. |
| Banaras Hindu University | M.A. in English M.A. in English M.A. in Hindi M.A. in Bengali M.A. in Kannada M.A. in Urdu M.A. in Sanskrit M.A. in AIHC & Arch (Ancient Indian History, Culture & Archaeology), M.A. in Philosophy M.A. in Linguistics M.A. in Nepali M.A. in Arabic M.A. in French M.A. in German M.A. in Marathi M.A. in Persian M.A. in Russian M.A. in Chinese M.A. in Telugu M.A. in Indian Philosophy and Religion (IPR) M.A. in History of Art M.A. in Pali M.A. in Museology M.A. in Prayojanmulak Hindi (Patrakarita) M.Lib.I. Sc. (Master of Library & Information Science) M.A. in Manuscriptology and Paleography (under Dept. of Persian) M.P.Ed. (Master of Physical Education) Master of Vocation in Retail & Logistics Management Faculty of Social Sciences M.A. in Economics M.A. in History M.A. in Political Science M.A. in Sociology M.A. in Social Work Master of Arts in Anthropology M.A. in Public Administration Master of Personnel Management and Industrial Relations M. A. in Conflict Management and Development Masters of Arts in Integrated Rural Development and Management M.A. in Social Exclusion and Inclusive Policy M.A. in Energy Economics Faculty of Commerce M.Com Institute of Science M.Sc. In Physics M.Sc. in Chemistry M.Sc. in Zoology M.Sc. in Botany M.Sc. in Computer Science M.Sc. in Biochemistry M.Sc. (Tech.) in Geophysics M.Sc. Geology M.Sc. in Environmental Science M.Sc. in Applied Microbiology M.Sc. in Statistics and Computing M.Sc. in Computational Science and Applications in Signal Processing M.Sc. in Forensic Science Institute of Agricultural Sciences M. Sc. (Ag.) Agricultural Economics M. Sc. (Ag.) Agronomy M. Sc. (Ag.) Animal Husbandry & Dairying M. Sc. (Ag.) Entomology & Agricultural Zoology M. Sc. (Ag.) Genetics & Plant Breeding M. Sc. (Ag.) Horticulture M. Sc. (Ag.) Mycology & Plant Pathology M. Sc. (Ag.) Plant Physiology M.Sc. (Ag) in Extension Education M. Sc. (Ag.)Soil Science & Agricultural Chemistry M.Sc. (Ag.) Agroforestry M.Sc. (Ag.) in Soil Science – Soil and Water Conservation M.Sc in Food Science and Technology M.Sc in Plant Biotechnology M. Sc. in Bioinformatics Institute of Environment and Sustainable Development M.Sc. in Environmental Sciences (Environmental Technology) Common Courses M.A./M.Sc. in Home Science M.A./M.Sc. in Mathematics M.A./M.Sc. in Statistics M.A./M.Sc. in Psychology M.A. in Psychology M.A./M.Sc. in Geography M.A. in Geography |
| Central Tribal University of Andhra Pradesh | M. A. English Language and Literature New M. A. Telugu New M.A. Political Science New M.Tech. Artificial Intelligence and Data Science New M.Sc. Mathematics New M.Sc. Economics New M.Sc. Applied Psychology New |
| Central Tribal University of Andhra Pradesh | M.Sc. Chemistry (with Medicinal Chemistry as specialization) M.A Sociology Master of Social Work (MSW) Master of Journalism and Mass Communication (MJMC) Master of Business Administration (MBA) M.A English B.Sc.+ M.Sc. Chemistry (with Medicinal Chemistry as Specialization) BBA + MBA (Tourism and Hospitality Management) B.Sc + M.Sc Geology B.Sc + M.Sc Botany B.Com. (Vocational) B.Sc. AI (Artificial Intelligence) |
| Central University of South Bihar | M.Tech M.Sc M.Ed M.Com |
| Central University of Gujarat | M.Sc. Industrial Chemistry M.Sc. in Chemical Sciences Master of Education (M.Ed. M.Sc. in Environmental Sciences M.Sc. in Nanotechnology |
| Central University of Himachal Pradesh | M.Sc Geology M.Sc. (Ag.) Horticulture M.Sc. in Food Science and Technology M.Sc. in Forensic Science and Criminology M.Sc. in Biotechnology M.Sc. in Applied Chemistry M.Sc. (Environmental Science) M.Sc. (Food and Nutrition) M.Sc. (Food Science and Technology) M.Sc. (Human Development and Family Studies) M.Sc. (Forensic Science & Criminology) M.Sc. (Brain & Cognition Sciences) M.Sc. (Biotechnology) M.Sc. (Life Sciences) M.Sc. (Zoology) M.Sc. (Food Microbiology and Toxicology) M.Sc. (Industrial Microbiology) M.Sc. (Environmental Microbiology) M.Sc. (Chemistry) M.Sc. (Mathematics) M.Sc. (Nuclear Medicine Technology) M.Sc. (Physics) M.Sc. (Statistics) M.Tech. (Computer Science) M.Tech. (Software Engineering) M.A. (Economics) M.A. (History) M.A. (Political Science) M.A. (Public Administration) M.A. (Sociology) M.A. (English) M.A. (Education) M.A. (Hindi) One Year LL.M. |
| Central University of Jammu | M.Tech. (Computer Science & Technology) M. Ed (Master of Education). M.A.Hindi M.A. Social Work M.A. / M.Sc. Applied Mathematics M.Sc. Material Science & Technology M.Sc. Environmental Sciences MBA (Supply Chain Management) MBA (Human Resource Management) MBA (Tourism & Travel Management) M.A. (Mass Communication & New Media) M.A. (National Security Studies) M.A. (Public Policy & Public Administration) M.A. (Economics) M.A.English & Comparative Literature M.Sc. Physics M.Sc. Chemistry M.Sc. Zoology M.Sc. Botany |
| Central University of Karnataka | M.Sc. in Applied Geology and Geoinformatics M.Sc. in Psychology M.Sc. in Applied Geography and Geoinformatics M.Sc. in Chemistry M.Sc. in Physics M.Sc. in Mathematics M.Sc. in Life Science M.Sc. in Applied Geology MCA MBA M.Com |
| Central University of Kashmir | LLM M.Com M.Ed. MA Economics MA Political Science MBA M.Phil Biotechnology M. Phil Economics |
| Central University of Kerala | M.A. Economics M.A English and Comparative Literature M.A Linguistics and Language Technology M.A Hindi and Comparative Literature M.A. International Relations & Political Science M.A. Malayalam M.A. Public Administration & Policy Studies M S W (Master of Social Work) M.Ed. (Master of Education) M.Sc. Zoology M.Sc. Biochemistry M.Sc. Chemistry M.Sc. Computer Science M.Sc. Environmental Science M.Sc. Genomic Science M.Sc. Geology M.Sc. Mathematics M.Sc. Botany M.Sc. Physics M.Sc. Yoga Therapy L L M (Master of Law) MPH MBA MBA (Tourism& Travel Management) M.Com. M.A. Kannada |
| Central University of Odisha | MSc Physics M.Sc. Chemistry M.SC Bioinformatics M.Sc Zoology M.Sc. Botany M.Sc Environmental Studies M.Sc. Mathematics MBA MBA Travel and Tourism MA Sociology MA English MA Education MA New Media Communication MA Journalism and MAss Communication MA Political Science MA History MA Hindi MA Sanskrit MA Punjabi M.Lib.I.Sc MCA MSW (Social Works) |
| Central University of Punjab | M.Sc. in Molecular Medicine M.Sc. in Zoology M.Sc. in Sports Science M.Sc. in Microbial Sciences M.Sc. in Geography M.Sc. in Biochemistry M.Sc. in Microbiology M.Sc. in Environment Science and Technology M.Sc. in Chemical Sciences (Medicinal Chemistry) M.Sc. in Botany M.Sc. in Computational Physics M.Sc. in Statistics M.Sc. in Physics M.Sc. in Human Genetics M.Sc. in Mathematics M.Sc. in Food Science and Technology M.Sc. in Bioinformatics M.Sc. in Computational Chemistry M.Sc. in Chemistry M.Sc. in Geology MBA MA Sociology MA English MA Education MA Psychology MA Journalism and MAss Communicaiton MA Political Science MA History MA Hindi MA Punjabi MA Geography MA Music (Vocals) MA Music (Instrumental) MA Theatre MA Economics M.A. International Relations & Political Science M.Tech. in Computer Science and Technology M.Tech. in Food Technoogy M.Tech. in Cyber Security M.Pharm. in Pharmacology M.Pharm. in Pharmaceutical Chemistry M.Pharm. in Medical Chemistry M.Pharm. in Pharmacognosy LLM (Master of Law) M.Com M.Lib.I.Sc |
| Central University of Rajasthan | M.A Cultural Informatics M.A Culture & Media Studies M.A Economics M.A English M.A Hindi M.A Public Policy, Law & Governance M.A Social Work M.A Education M.Pharm Pharmaceutical Chemistry M. Pharm Pharmaceutics M.Sc. Atmospheric Science M.Sc. Biochemistry M.Sc. Biotechnology M.Sc. Chemistry M.Sc. Computer Science M.Sc. Computer Science (Big Data) M.Sc. Digital Society M.Sc. Microbiology M.Sc Mathematics M.Sc. Physics M.Sc. Sports Physiology M.Sc. Sports Biochemistry M.Sc. Statistics M.Sc. Yoga Therapy M.A Sports Psychology M.Arch (Sustainable Architecture) MBA M.Com M.Tech (Computer Science) M.Tech (Computer Science and Engineering) |
| Central University of Tamil Nadu | M.A Odia M.A English M.A Sanskrit M.A Sociology M.A Economics M.A Journalkism and Mass Communication M.Sc. Anthropology M.Sc. Biodiversity and Conservation of Natural Resources M.Sc. Statistics Integrated M.Sc in Mathematics |
| Indira Gandhi National Tribal University Amarkantak | M.Sc. Botany M.Sc. Zoology M.Sc. Geology M.Sc. Chemistry M.Sc. Biotechnology M.Sc. Environmental Science M.Sc. Mathematics M.Sc. Statistics M.Sc. Physics MCA MBA M.B.A in Tourism Management M.Com M.A English M.A Hindi M.A. in Linguistics M.A Applied Psychology M.A Economics M.A Ancient Indian History M.A Culture & Archaeology M.A History M.A Geography & Rural Development M.A Political Science & Human Rights M.A Sociology & Social Anthropology M.A Tribal Studies M.A Master in Journalism and Mass Communication (MJMC) |
| IGNTU-Regional Centre Manipur | M.A in Political Science & Human Rights M.A Social Work M.A Sociology & Social Anthropology M.A Tribal Studies MCA |
| Dr. Harisingh Gour Vishwavidyalaya | M.Com M.Ed MBA M.Sc Botany M.Sc Chemistry M.Sc Geography M.Sc Mathematics M.Sc Physics M.Sc Zoology M.Sc Biotechnology M.Sc Yogic Science M.Sc Psychology M.Sc Applied Microbiology MA Economics MA English MA Geography MA Hindi MA History MA Political Science MA Sociology MA Mathematics MA Sanskrit MA Rural Development MA Psychology MA Criminology MA Anthropology MCA M.Tech Applied Geology M.Lib.I.Sc M.Pharma Pharmaceutics MSW MPA MCJ |
| Guru Ghasidas Vishwavidyalaya | M.A.English M.A Hindi MA in Journalism & Mass Communication M.Lib. & Inf. Sc Master of Technology (Structural Engineering) MTech (CSE) M.Tech. in Electronics and Communication Engineering M. Tech. in CAD/CAM & Robotics M.Tech. Information Technology M.Tech. (Chemical Engineering) M.Tech. (Machine Design) M.Sc. (Botany) M.Sc. Zoology M.A./M.Sc ( Anthropology ) M.A. Economics M.A. in History M.A. (Political Science) M.S.W. M.Sc. (Computer Science) M.C.A. M.Sc. in Mathematics M.Sc. Forestry & Environmental Sciences M.Pharm. (Pharmaceutics) M. Pharm. (Pharm. Chemistry) M. Pharm. (Pharmacology) M. Pharm. (Pharmacognosy) M. Sc. Chemistry M.Sc. Physics M.Sc. Electronics (Specialization in Communication Electronics) M.Com. MBA M.Ed. M.P.Ed. M.Sc. (Biotechnology) M.Sc. in Forensic Science M.Sc. in Rural Technology |
| Hemvati Nandan Bahuguna Garhwal University | M.Sc. Forestry & Natural Resources M.Sc.Medi. & Arro.Plants M.Phil Env. Plant Bio. M.Sc. Horticulture M.Sc. in Rural Technology M.Sc. Seed Science and Technology M.Sc. Pharmaceutical Science M.Sc. Pharmaceutical Chemistry M.Sc. Home Science M.Sc. Chemistry M.Sc. Mathematics M.Sc. Statistics M.Sc. Physics M.Sc. Statistics M.Com M.Sc. Defense & Strategic Studies M.Sc. Geology M.Sc. Geography M.Sc. Remote Sensing and GIS M.Ed MCA M.A Painting and Drawing M.A.MassCom. M.A English M.A Theatre M.A Indian Languages M.A Music (Vocals) M.A Music (Instrumental) M.A Sanskrit LLM M.Sc. Botany M.Sc. Microbiology M.Sc. Environment Sciences M.Sc. Zoology MBA MBA Tourism |
| Jawaharlal Nehru University | Integrated Programs – Integrated M.Sc-Ph.D program in Computational & Integrative Sciences(CISM) Integrated M.Sc-Ph.D program in Molecular Medicine(CMMM) M.A. in Ancient History(ANCM) M.A. in Arabic(ARBM), M.A. in Arts & Aesthetics(SAAM) M.A. in Chinese(CHNM) M.A. in Development and Labour Studies(DLSM) M.A. in Economics(ECOM) M.A. in Economics(with specialization in World Economy) (EILM) M.A. in English (ENGM) M.A. in French and Francophone Studies (FRNM) M.A. in Geography (GEOM) M.A. in German Literature (GRLM) M.A. in German Translation/Translation & Interpretation (GRTM) M.A. in Hindi (HNDM) M.A. in International Relations and Area Studies (IRAM) M.A. in Japanese( JAPM) M.A. in Korean (KORM) M.A. in Linguistics (LINM) M.A. in Medieval History (MEDM) M.A. in Modern History (MODM) M.A. in Persian (PERM) M.A. in Philosophy (SPHM) M.A. in Political Science (POLM) M.A. in Politics (with specialization in International Studies) (PISM) M.A. in Russian (RSNM) M.A. in Sanskrit (SANM) M.A. in Sociology (SOCM) M.A. in Spanish (SPNM) M.A. in Urdu (URDM) M.Sc. in Environmental Sciences (SESM) M.Sc. in Life Sciences (SLSM) M.Sc. in Physics (SPSM) MBA in ABVSME |
| Mahatma Gandhi Antarrashtriya Hindi Vishwavidyalaya | M.A. in Hindi Literature M.A. in Psychology M.A. in Mass Communication M.A. in English Literature M.A. in Women Studies M.A. in Anthropology M.A. in Buddhist Studies M.A. in Translation Studies M.A. in Migration and Diaspora Studies M.A. in Dalit and Tribal Studies M.A. (Functional Hindi, Language Management) M.A. in Comparative Literature M.A. in Philosophy M.A. in Urdu M.A. in Philosophy M.A. in Gandhi and Peace Studies M.A. in History M.A. in Film Studies M.A. in Linguistics M.A. in Sanskrit M.A. in Dramatics MSW MBA MPA MCA Master in Informatics and Language Engineering Master of Education (M.Ed.) |
| Manipur University | M Com (Master of Commerce) MA Adult Education MA Dance MA Economics MA Education MA English & Cultural Studies MA Hindi MA History MA Library and Information Sc. MA Linguistics MA Manipuri MA Mass Communication MA National Security Studies MA Philosophy MA Political Science MA Sociology MA South East Asian Studies MA/MSc Anthropology MA/MSc Geography MA/MSc Mathematics MA/MSc Psychology MA/MSc Statistics Master of Fine Arts(MFA) Master of Law (LLM) MBA (Master in Business Administration) MCA (Master in Computer Application) MPES (Master of Physical Education & Sports) MSc Biochemistry MSc Biotechnology MSc Chemistry MSc Earth Sciences MSc Environmental Science MSc Forestry MSc in Yoga Science MSc Life Sciences(Botany) MSc Life Sciences(Zoology) MSc Physics M.Voc Entrepreneurship & Foreign Trade M.Voc Tourism & Hospitality Management |
| North Eastern Hill University | M.A English M.A History M.A Geography M.A Political Science M.Sc. Physics M.Sc. Botany M.Sc. Chemistry M.Sc. Zoology M.Tech Nanotechnology M.Tech IT MTech Electronics and Communications Engineering MBA MD Forensic Medicine and Toxicology MD General Medicine MD Dermatology, Venereology and Leprosy MD Microbiology MS Obstetrics & Gynaecology MS General Surgery MS ENT M.Com MJMC MCA M.Lib.I.Sc MCA M.Ed LLM M.Phil English M.Phil Political Science M.Phil History |
| Sikkim University | MA/M.Sc Anthropology MA/M.Sc Geography MA/M.Sc Psychology M.A Chinese M.A English M.A Hindi M.A Nepali M.A Bhutia M.A Lepcha M.A Limbu M.Sc. Botany M.Sc. Horticulture M.Sc. Microbiology M.Sc. Zoology M.Sc. Chemistry M.Sc. Computer Applications M.Sc. Geology M.SC. Mathematics M.Sc. Physics M.Com M.Ed MBA M.A Mass Communications MPA MTTM (Tourism) M.Lib.I.Sc. M.A Economics M.A History M.A International Relations LLM M.A Peace and Conflict Studies and Management M.A Political Science M.A Sociology |
| Tezpur University | M.Sc. in Physics M.Sc. in Nanoscience & Technology M.Sc. in Chemistry M.Sc. in Mathematics M.Sc. in Molecular Biology and Biotechnology M.Sc. in Environmental Science Integrated M.Sc. in Chemistry Integrated M.Sc. in Mathematics Integrated M.Sc. in Bioscience & Bioinformatics Integrated M.Sc. in Physics Integrated M.A. in English Integrated M. Com Integrated B.A.B.Ed. M.A. in English M.A. in Cultural Studies M. A. in Linguistics & Language Technology M. A. in Linguistics & Endangered Languages M.A. in Mass Communication and Journalism M.A. in Communication for Development M. A. in Hindi M.A. in Sociology M. A. in Social Work M. A. in Education Master of Business Administration Master of Computer Application Master of Tourism and Travel Management M. Tech. in Polymer Science & Technology M. Tech. in Mechanical Engineering M. Tech. in Information Technology M. Tech. in Electronics Design & Technology M. Tech. in Bioelectronics M. Tech. in Food Engineering & Technology M. Tech. in Energy Technology |
| The English and Foreign Languages University | M.A. Journalism and Mass Communication M.A. Computational Linguistics M.A. Linguistics M.A. English Literature M.A. Comparative Literature M.A. Literature in English M.A. English Language Teaching M.A. Hindi M.A. Arabic M.A. French M.A. German M.A. Russian M.A. Hispanic Studies |
| Tripura University | M. Sc. (Botany) M. Sc. (Chemistry) M.Tech. (Electrical Engineering) M. Sc. (Forestry and Biodiversity) M. Sc. (Human Physiology) M.Lib.I.Sc. (Master in Library and Information Science) M.Sc. (Mathematics) M.Sc. (Molecular Biology and Bioinformatics) M. Sc. (Physics) )M.Sc. (Zoology) M. Tech. (Chemical and Polymer Engineering) M.Tech. (Computer Science and Engineering) M.Tech. (Electronics and Communication Engineering) M.Sc. (Geography and Disaster Management) M.Tech (Information Technology) Master of Computer Application (MCA) M. Tech. (Material Science and Engineering) M.Sc. (Microbiology) M. Pharm. (Pharmaceutical Chemistry) M. Sc. (Statistics) M.A. (Education) M.Com (Commerce) M.A. (Economics) MFA (Drawing and Painting) MFA (Modeling and Sculpture) M.A. (Hindi) M.A. (Kokborok) M.A. (Liberal Arts) M.A. in Hindustani Music (Vocal) M.A. in Classical Dance (Kathak) M.P.Ed.M. A (Psychology) Masters in Rural Studies (MRS) M.A. (Sanskrit)M.A. (Tourism) M.A. (Bengali) M.A. (Education)M.A. (English) M.A. (History) MA (Journalism and Mass Communication) LLM (Law) M.A. (Linguistics and Tribal Languages) M.A. (Philosophy) M.A. (Political Science) M.A. (Performing Arts) MBA (General Management) M.A (Sociology) |
| University of Hyderabad | M.Sc Mathematics/Applied Mathematics M.Sc Statistics-OR M.Sc Physics M.Sc Chemistry M.Sc Biochemistry M.Sc Plant Biology and Biotechnology M.Sc Biotechnology M.Sc Molecular Microbiology M.Sc Animal Biotechnology M.Sc Ocean & Atmospheric Sciences M.Sc Health Psychology M.Sc Neural Á Cognitive Science M.C.A. M.P.H. MBA M.A English M.A Philosophy M.A Hindi M.A Telugu M.A Urdu M.A Applied Linguistics M.A Comparative Literature M.A Economics M.A History M.A Political Science M.A Sociology M.A Anthropology M.A Communication (Communication & Media Studies, Print Journalism & New Media, Television & Radio) MPA Dance (Kuchipudi/Bharatanatyam) MPA Theatre Arts MFA Painting/Print Making/Sculpture MFA Art History |
| Rajiv Gandhi National Institute of Youth Development | M.Sc. Computer Science(Data Science) M.Sc. Computer Science(Artificial Intelligence and Machine Learning) M.Sc. Computer Science(Cyber Security) M.Sc. Mathematics M.Sc. Applied Psychology M.A. English M.A. Sociology M.A. Development Studies M.A. Public Administration M.S.W. (Youth and Community Development |
| Indian Institute of Mass Communication | PG Diploma in Journalism (English, Hindi, Urdu, Odia, Marathi, Malayalam, Radio & TV Journalism, Advertising & PR) |
| Footwear Design & Development Institute, GoI | Master Of Design (M. Des.) In Footwear Design & Production Master Of Business Administration (MBA) In Retail & Fashion Merchandise |
| B.R. Ambedkar School of Economics University | 5-Years Integrated M.Sc In Economics 2-Years M.Sc Economics M.Sc In Financial Economics |
| Madan Mohan Malviya University of Technology | Dr. A.P.J Abdul Kalam Technical University |
| M.Com MBA M.Sc Geography M.Sc Microbiology M.Tech Materials Science and Technology MA Mass Communication LLM M.Sc Applied Psychology M.Sc Applied Psychology M.Sc Geology M.Sc Horticulture M.Sc Statistics and Applied Mathematics MA Classical Tamil Studies MA Economics MA English MA Hindi MA History MBA Tourism and Hospitality Management MSW M.Sc Chemistry M.Lib.I.Sc M.Sc Epidemiology and Public Health M.Phil Physics M.Phil Chemistry M.Phil Library and Information Science M.Phil Commerce M.Phil Geography M.Phil English M.Phil Mathematics M.Phil Social Work M.Phil Tamil M.Phil Computer Science M.Phil Management M.Phil Mass Communication M.Phil Applied Psychology M.Phil Music | M. Pharma. (Pharmaceutics) M. Pharma. (Pharmacology) M. Pharma. (Pharmaceutical Quality Assurance) M. Sc. (Maths) M. Sc. (Chemistry) M. Sc. (Physics) M. Sc. (Botany) M. Sc. (Agriculture) MA (English) MA (Geography) MA (Psychology) MA (Hindi) MA (Political Science) MA (Sociology) MA (Education) M.Com MSW MBA MCA |
| Devi Ahilya Vishvavidyalaya | M.E.-Electronics (IOT & System Design) M.E. Computer Engineering M.E. Electronics Digital Communication M.E.Electronics IOT & System Design M.E. Industrial Engineering & Management M.E. Information Technology M.E. Mechanical Engineering M.Tech. in Big Data Analytics M.Tech. in Computer Science M.Tech. in Data Science M.Tech. in Embedded Systems M.Tech. in Energy and Environment M.Tech. in Energy Management M.Tech. in Geoinformatics M.Tech. in Information Architecture & Software Engineering M.Tech. in Instrumentation M.Tech. in IOT M.Tech. in Laser Science & Applications M.Tech. in Mobile Computing Technology M.Tech. in Network Management & Information Security M.B.A. (Advertising and Public Relations) M.B.A. (Business Analytics) M.B.A. (Business Economics) M.B.A. (Computer Management) M.B.A. (Disaster Management) M.B.A. (E-Commerce) M.B.A. (Entrepreneurship) M.B.A. (Financial Administration) M.B.A. (Financial Services) M.B.A. (Foreign Trade) M.B.A. (Hospital Administration ) M.B.A. (Human Resource) M.B.A. (International Business) M.B.A. (Marketing Management ) M.B.A. (Media Management) M.B.A. Public Administration and Policy M.B.A. Rural Development M.B.A. (Tourism Administration) M.Pharm. M.Sc. Applied Mathematics M.Sc. Biochemistry M.Sc. Bioinformatics M.Sc. Biotechnology M.Sc. Chemistry M.Sc. Computer Science M.Sc. Data Science and Analytics M.Sc. Electronics & Communication M.Sc.Electronics M.Sc. Genetic Engineering. M.Sc. Industrial Microbiology M.Sc. Information Technology M.Sc. Instrumentation M.Sc. Life Sciences M.Sc. Mathematics M.Sc. Pharmaceutical Chemistry M.Sc. Physics M.Sc. Physics-Material Science M.Sc. Statistics M.A. (Journalism and Mass Communication M.A. Functional Hindi Translation & Literature M.A. (English Literature) M.A.-Life Long Learning for Women Empowerment M.A. Economics M.A. Clinical Psychology M.A. Political Science M.A. Sociology M.Com Accounting and Financial Control M.Com.(Bank Management) LL.M.Business Law Master of Social Work (M.S.W. ) Bachelor of Library and Information Science (M.L.I.Sc.) M.Voc. Interior Design M.Voc. Nutrition Dietetics M.Voc. Landscape Design |
| Sardar Patel University of Police, Security and Criminal Justice | M.Sc. in Applied Criminology M.Tech. in Cyber Security M.A. in Applied Criminology M.A. in Criminal Law Master of Law (LL.M.) LL.M. in Criminal Law MSW in Child Protection |
| Apex University | M.Tech Vlsi System Design Engineering M.Tech Computer Science Engineering M.Tech Power System Engineering M.Tech Machine Design Engineering M.Tech Thermal Engineering M. Tech Structural Engineering M.Tech Environmental Engineering M.Tech Transportation M.Tech Renewable Energy Technology M.Tech Manufacturing Engineering M.Tech Software Engineering M.Sc. Pharmaceutical Chemistry M.Sc Industrial Pharmacy M.Sc. Computer Science M.Sc Information Technology M.Com MBA Digital Marketing MBA Business Analytics MBA Pharmaceutical Management MBA Food and Agri-Business MBA Rural Marketing MBA Health and Hospital Management M.Sc. Physics M.Sc. Chemistry M.Sc. Mathematics M.Sc. Botany M.Sc. Agriculture Master of Physiotherapy (MPT) MA – Yoga Science M.Sc – Yoga Science MJMC – MA in Journalism and Mass Communication M.A – English MA Hindi MA Psychology M.A Geography M.A Political Science M.A History M.A Home Science M.A Economics M.A Social Study MSW M.A Education M.Lib.I.Sc. |
| | |
| --- | --- |
| Author | CUET PG |
| Language | English |
| No. of Pages | 827 |
| PDF Size | 17 MB |
| Category | Education |
| Source/Credits | cdnbbsr.s3waas.gov.in |
Related PDFs
TNUSRB SI Syllabus 2023 PDF In Tamil
CUET PG Courses List PDF Free Download