'Printable Sign In & Sign Out Sheets' PDF Quick download link is given at the bottom of this article. You can see the PDF demo, size of the PDF, page numbers, and direct download Free PDF of 'Sample Sign-in/Sign-out Sheet Template' using the download button.
Sign-in/Sign-out Sheet Form PDF Free Download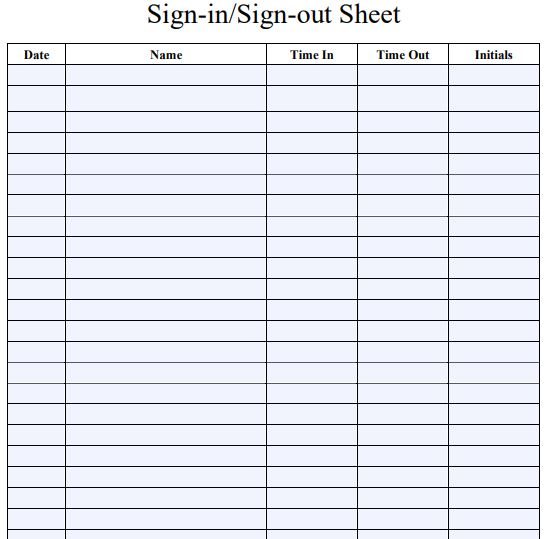 Sign-in/Sign-out Sheet
A sign-in/sign-out sheet allows a host to record the names of those coming in and out of an event or social gathering.
Using this form will aid in the overall organization and help keeps things running smoothly by outlining who has arrived and who has left the meeting, appointment, event, etc.
Using this sign-in sheet is simple, however, if you would like assistance in getting accustomed to the formatting, take a moment to review our tutorial below.
Tips for using this document
To make things easier for you when you plan to create your own sign-in sign-out sheet, you look at templates for reference.
This simple form is extremely flexible and you can use it in the following ways:
For students to attend their classes or a special school event.
For teachers to keep track of their schedules or classes.
For doctors to keep track of their patients.
For employees in hospitals and companies.
For special events where you can keep track of the time each attendee spent at the event
The sign-out sheet template should have spaces for those who will sign in or out.
You can also add a space for their signatures to make the sheet look more professional.
Here are some pointers on how to use this form:
Keep it short
The best templates only contain the required information.
If you make the sheet too long, there will be fewer people who would like to sign up as it would take too much time.
Use a clean and simple design
Although you will use the form to gather important information, it should still have enough space where people can write down details without mixing up the information they provide.
Also, make sure your form's header is clearly readable.
When adding questions, keep them simple
Don't make your guests think too much about what to answer with very complicated inquiries.
The questions must be both straightforward and simple.
Indicate the time needed to fill up the form
It's a good idea to inform the attendees in advance how much time they need to fill up the sheet. Just make sure this time isn't too long.
Include a message of thanks
Once an attendee has filled up the sheet, a confirmation and a thank you message must already be in the works to indicate that you have received the information.
This is more common for online forms.
Use a clear font
Make sure that the fonts you use are very clear so that the readers will understand everything.
Sort the names on your sheet
It's recommended that you sort the names of the attendees in order.
That way, those who attend the event can easily find their names and sign on your sheet.
Reach out
Always send a confirmation beforehand to those who will attend your events.
Then you can request feedback after the event.
How to Write
Step 1 – Download the Form
The first step is to download the form in the correct format.
To ensure that the sign-in sheet can be utilized on the majority of operating systems, we have supplied this document in PDF, ODT, and Word formats.
Step 2 – Date and Name
When an individual arrives at the event, have them record the date as well as their name.
If the sign-in sheet is to be used for a single day only, you may want to record the date yourself prior to the event in order to streamline the sign-in process.
Step 3 – Signing in/out
Next, the time of arrival should be documented; this step may be completed by yourself or the attendee.
Once the individual decides to leave the event, record their time of departure and ask them to provide their signature.
Step 4 – Presenting the Form
This sign-in sheet should be accessible at the entrance to enable attendees to write their names upon arrival.
Individuals will also need to supply their initials when leaving the event, so be sure to keep the form in an area where it can be found throughout the entire day.
| | |
| --- | --- |
| Author | – |
| Language | English |
| No. of Pages | 1 |
| PDF Size | 1 MB |
| Category | Form |
| Source/Credits | eforms.com |
Sign-in/Sign-out Sheet Form PDF Free Download