'Payment Plan Agreement Form' PDF Quick download link is given at the bottom of this article. You can see the PDF demo, size of the PDF, page numbers, and direct download Free PDF of 'Sample Payment Plan Agreement Template' using the download button.
Payment Plan Agreement Template PDF Free Download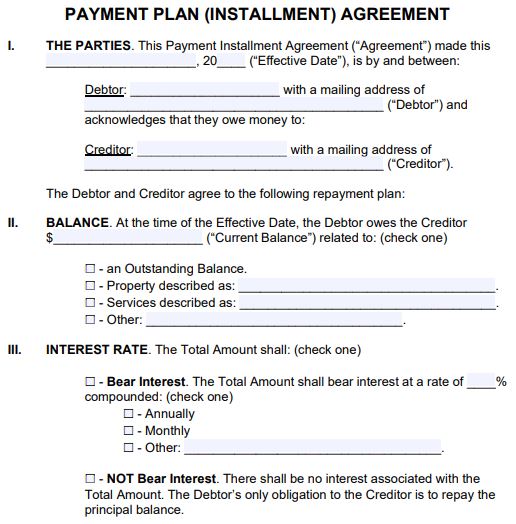 What Is a Payment Agreement?
A payment plan agreement is a legal document between a lender and a borrower.
It outlines the terms agreed between the parties to set up a mutually agreed repayment schedule.
They are commonly used when the borrower or debtor, can't, or doesn't want to, pay a full amount for goods or services in a single instalment.
They're typically paid by ACH Debit on a recurring basis.
Alternate names for this document include:
Payment contract
Instalment agreement
Payment agreement letter
What is a Payment Agreement Used For?
Payment plan agreements are used in lots of different settings to act as legally binding contracts between two parties.
Some common examples of where payment agreements are used include:
Buying a car
Overdue rent
Debt
Tuition fees
Legal services
Dental
Medical
How to Set Up a Payment Plan
Setting up a payment plan requires the consent of a creditor and debtor to define the terms and conditions of an agreement. For outstanding balances, a payment plan is often the "last chance" for the debtor to clear a debt.
he debtor and creditor must come to terms with a payment arrangement that benefits both parties.
There are two (2) types of payment plans:
Goods or Services – A payment plan created for a customer seeking to purchase goods or services with payments made over a short term (6-18 months).
An interest rate is commonly charged.
Examples: Motor Vehicles, Cell Phones, etc.
Outstanding Balance – Used to consolidate or make an agreement with a creditor where funds are owed.
If there is interest accumulating on the balance, it's advised the debtor pay 20% of their income.
When agreeing to terms the creditor may request the debtor's last two (2) years of IRS income returns and a copy of their last paycheck.
Examples: Past debt, Collections, etc.
Step 2 – Create a Payment Agreement
After agreeing to the balance owed, the terms of the payment plan should be written in a simple agreement.
There is often no security pledged with the incentive to pay by the debtor either interest-free payments or a discounted total balance.
The payment agreement should include:
Creditor's Name and Address;
Debtor's Name and Address;
Acknowledgement of the Balance Owed;
Amount Owed;
Interest Rate (if any);
Repayment Period;
Payment Instructions;
Late Payment (if any); and
the State of Governing Law.
After the signature of the creditor and debtor, the agreement becomes legally valid.
For payment plans consisting of more than $10,000, it's recommended for both parties to attach a Notary Acknowledgment to the agreement and sign in the presence of a Notary Public.
Step 3 – Begin the Payment Schedule
Use a Credit Card/ACH Authorization Form to obtain the debtor's payment details.
Most creditors will require the debtor to set up automatic payments that will either charge the debtor's credit card or bank account for each instalment period.
After the balance owed has been paid-in-full, the debtor will be released from any financial liability.
This can be completed through a Release Form and may also be used by the debtor to clear any outstanding balances on their credit report.
Why Make a Payment Plan Agreement?
There are a number of benefits of making a payment plan agreement:
If drafted well, a payment plan agreement can be used as a piece of evidence in court.
This can be helpful if the borrower can't pay or doesn't follow the terms of the agreement and the lender needs to take the situation to court to get their money back.
A payment plan agreement provides explicit instructions on how payment should be made and when.
This helps avoid any confusion when lending and repaying debts.
It provides a level of protection for both the lender and the borrower.
The payment plan agreement acts as legal proof to show the total amount owed.
As an additional level of protection, you could sign the agreement in front of a notary or get witnesses to sign the document too.
Both the lender and the borrower will receive a copy of the agreement.
Related Business Operations Documents
Business Purchase Agreement: A legally enforceable contract that documents the sale of a business.
Invoice Template: Request payment for itemized goods and services
Receipt: Use a receipt to legally acknowledge that a payment has been received for a transaction
| | |
| --- | --- |
| Author | – |
| Language | English |
| No. of Pages | 5 |
| PDF Size | 1 MB |
| Category | Form |
| Source/Credits | eforms.com |
Payment Plan Agreement Template PDF Free Download