'Florida Lease Agreement Form' PDF Quick download link is given at the bottom of this article. You can see the PDF demo, size of the PDF, page numbers, and direct download Free PDF of 'Florida Rental Lease Agreement Template' using the download button.
Residential & Commercial Florida Lease Agreements PDF Free Download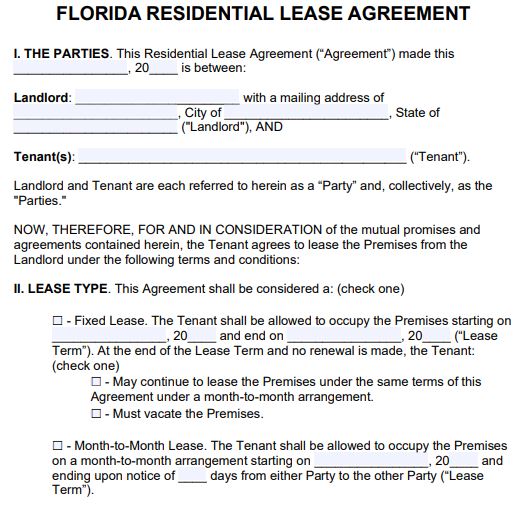 Required Disclosures
Identification ( § 83.50(1)) – Owners must list themselves or an authorized agent that is allowed to access the premises in addition to receiving notices.
Lead-Based Paint Disclosure – Federal law requires landlords to complete and provide to a tenant prior to occupancy.
Radon Disclosure (§ 404.056) – The following must be stated in every Florida lease agreement:
Landlord-Tenant Laws
All statutes related to Florida's legislation regarding the necessary protocol that needs to be followed by lessors and lessees of residential property can be found under Title VI, Chapter 83: Landlord and Tenant – Part II – Residential Tenancies.
The FDACS (Florida Department of Agriculture & Consumer Services) offers a Landlord/Tenant Law Brochure that condenses all the essential information that one would need to know when entering into a contract to rent/lease a property.
Required Landlord Disclosures
Landlord's Address (§ 83.50) – The lessor (or an authorized agent representing the lessor) must disclose in writing their name and address within the content of the lease agreement.
Lead-Based Paint (42 U.S. Code § 4852d) – All lease/rental agreements for residential homes (built prior to 1978) shall contain a disclosure stating the harms and possible effects of lead-paint exposure, as well as any documentation concerning actual lead-paint hazards contained within the property.
Radon (§ 404.056(5)) – Every rental agreement within the state of Florida must include the following statement concerning radon gas:
"RADON GAS: Radon is a naturally occurring radioactive gas that, when it has accumulated in a building in sufficient quantities, may present health risks to persons who are exposed to it over time.
Levels of radon that exceed federal and state guidelines have been found in buildings in Florida. Additional information regarding radon and radon testing may be obtained from your county health department."
When is Rent Late?
The tenant must pay rent at the time and location described within the lease agreement (§ 83.46). The state does not enact a specified grace period.
Late Fees
Late fees for overdue rent should be established within the lease agreement prior to the occupancy.
Both parties should come to an agreement on the amount prior to signing as the state does not impose a maximum charge.
NSF Checks
A landlord who receives a bounced check has the right to charge the tenant a service fee of:
$25 if the value of the check is $50 or less.
$30 if the value of the check is greater than $50 but less than $300.
$40 if the value of the check is greater than $300 or 5% of its total value, whichever is greater.
(in accordance with § 68.065)
Security Deposit Maximum
Florida does not enforce a limitation on the security deposit amount a lessor can ask for when renting a property.
This should be discussed and agreed upon before signing any contract.
(The standard is typically 1-2 months' rent.)
Security Deposit Return
The landlord of the property is obligated to furnish the tenant with the funds held for the security deposit within fifteen (15) days of moving out/concluding the agreement.
If the landlord feels they need to subtract funds from the deposit due to damages or unpaid rent, they must send a written statement containing an itemized list within thirty (30) days of the termination of the contract.
Tenants will have fifteen (15) days from the time of receiving the notice to object, otherwise, the deductions will be considered valid and the tenant will receive whatever funds remain (§ 83.49)
| | |
| --- | --- |
| Author | – |
| Language | English |
| No. of Pages | 12 |
| PDF Size | 3 MB |
| Category | Form |
| Source/Credits | eforms.com |
Residential & Commercial Florida Lease Agreements PDF Free Download