'Sample Debt Collections Letter Template' PDF Quick download link is given at the bottom of this article. You can see the PDF demo, size of the PDF, page numbers, and direct download Free PDF of 'Example Debt Collection Letter Templates' using the download button.
Debt Collections Letter Form PDF Free Download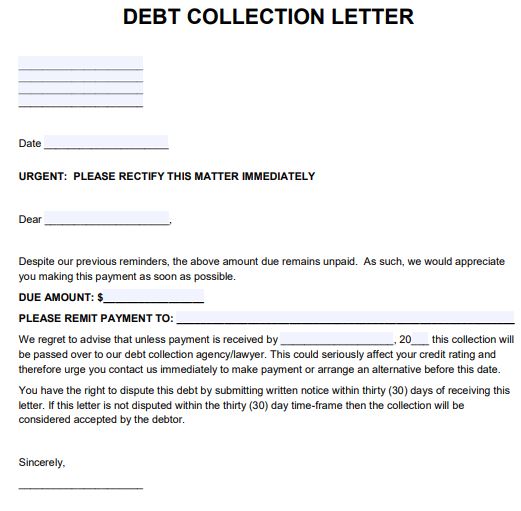 What Are the Kinds of Debt Letters?
A debt letter is a Legal Letter, which means it deals with a legal-financial issue.
These will most definitely be recorded in the respective offices, so you want to come across as reasonable, trustworthy, honest, and sane.
These are the kinds of letters you may have to draft in response to an Overdue Invoice Letter you have received that is causing you trouble.
Based on your situation, there are different kinds of debt letters to help you out:
Debt Letters Asking for Verification
These kinds of letters request verification of the legitimacy of the debt.
You address this to the debt collector and ask whether they are certain the debt is under your name or whether this is the correct amount you owe.
This is an important step that many people might shirk, either because they're scared to raise a ruckus or they're clueless about how to query the debt.
Don't be bullied out of your money.
Use the Debt Verification Letter Template below to ask the debt collector for proof of your indenture.
Also, see the Debt Settlement Offer Letter Template above or any of the dispute and validation letters on the list.
What to Include
In order to be compliant with Fair Debt Collection Practices, the letter must contain the following:
The debt amount ($)
The creditor's name
A statement informing the debtor that if they do not dispute the validity of the debt within 30 days, it will be assumed to be valid by the debtor.
Debt Letters Asking for Consideration
This letter agrees with the debt collector's demand.
In this letter, you confirm the amount and the legitimacy of the debt, but you also express regret at not being able to pay the full amount due at the current time due to some prohibiting factor.
You would then have to present a solution from your end on how you intend to fulfil the obligation.
See the Debt Agreement Payment Letter Template below for a good example.
It provides the solution of making payments in instalments.
Debt Letters Asking for Payment
This one is specifically for the debt collector.
This letter allows you to follow up on an overdue bill with your client in a professional way.
Note that you must include a formal invitation to dispute the debt legitimacy or amount in a courteous manner so that no further complications can arise.
| | |
| --- | --- |
| Author | – |
| Language | English |
| No. of Pages | 1 |
| PDF Size | 1 MB |
| Category | Form |
| Source/Credits | eforms.com |
Debt Collections Letter Form PDF Free Download